If you were hoping to have your brand-new iPhone 5 in your sweaty hands on its announced September 21 launch date, you may be out of luck. Apple has run out of its initial stock for preorders of its new smartphone, and carriers' stocks are dwindling rapidly.
Apple's online store was reportedly still listing the September 21 date for only about an hour after it opened for preorders at midnight Pacific time on Friday. It now says the handsets will be available to ship in "two weeks," no matter which color, configuration, or mobile carrier you choose.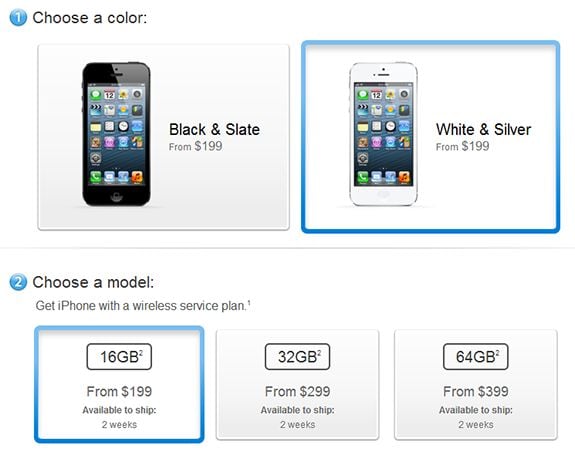 Such rapid sales were largely expected. Apple's previous smartphone, the iPhone 4S, was something of a letdown for fanbois who were hoping to see a more aggressive product refresh in 2011, but that didn't stop Cupertino from taking over one million preorders in the first 24 hours after it went on sale.
With world+dog seemingly lining up to get their mitts on the new, larger, skinnier iPhone 5, it seems likely that Apple's ship date may move back even further as the preorders keep pouring in.
Meanwhile, of the three US carriers who are also allowing customers to preorder the devices, only Sprint is still listing a September 21 ship date as your Reg hack types this. Verizon is currently offering a hard ship date of September 28, while AT&T says it will ship its iPhones in "14-21 business days," meaning its customers may not get their new shinies until October.
Adventurous fanbois may yet have one more chance to nab an iPhone 5 on its originally-announced ship date, though. According to Apple's website, the new phones will go on sale at Apple Stores everywhere when they open at 8am on September 21.
El Reg advises anyone brave enough to chance it to dress warmly, wear sensible shoes, and pack a lunch. In fact, breakfast might be a good idea, too. ®