This article is more than 1 year old
Why lock your digits to a phone? Telefonica to flog cloudy numbers
Voice-minute cash cow is slowly dying
Mobile operators are facing an inevitable squeeze as voice minutes disappear and the golden goose of messaging dies, but O2 owner Telefonica Digital has a plan: bring on the Chuckle Brothers and shell the OS out of existence.
In the UK, mobile voice minutes are in decline for the first time in the history of telephony. It's an expected, but terrifying development for the mobile industry – which still makes the vast majority of its revenue from selling voice calls by the minute. The obvious response is to charge more for data, which is currently subsidised by all that talking (Three, for example, makes 70 per cent of its revenue from the voice traffic, which makes up less than a tenth of its workload), but Telefonica is about to roll out an experimental alternative which instead challenges the basic premise of what a telco is.
The industry has always defined telcos by their infrastructure – cables, transmitters, radio spectrum and so forth – but to customers the telco is the company which hosts their communications, just as an email account may be hosted by Hotmail or Google. Those hosts make money by selling advertising, but Telefonica aren't going that far: the plan is to host one's phone number at very low cost, depending on the sale of additional services to make it worthwhile.
Telefonica Digital is a unit within the operator working out of rather plush central-London offices. The unit runs like a massively well-funded start-up, with a telco's access to live infrastructure combined with a start-up's distrust of conventional furniture.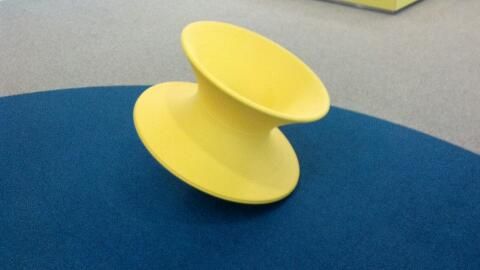 Chairs like this make you see things differently, mainly from a sprawled-on-the-floor position.
TuMe, TuGo, O2, oh really?
The unit already launched stage one of the experiment: a VoIP platform called TuMe constructed out of the JahJah acquisition, which provides free calls and messaging between members. Tu Me has no revenue at all, but it does bring users into the cloud and works across rival networks too.
The next stage, to be rolled out later this year, is called TuGo, and turns the offering much more cloudy as well as generating some revenue. TuGo users will be able to move their mobile number into the cloud service, which will route incoming calls to whatever device they happen to be using as well as permitting outgoing calls from that device to any phone - billed to the customer in the usual way. TuGo redefines the customer: they are no longer subscribing to a mobile telephone service, they're subscribing to a phone number which will drift between mobile and fixed networks as best suits them.
Every TuGo customer will be an O2 customer, in the UK at least, but there will come a time when they won't need to be. The vision is for service and carriage to be separated entirely, just as LoveFilm delivers video over a home broadband connection, so one could take a telephony service from O2 and cellular carriage from Vodafone or anyone else, assuming that was economically viable.
We have been here before: back in the days of WAP, the first incarnation of mobile data, the standard supported the concept of a Mobile Internet Service Provider that was divorced from the network operator. There were some abortive attempts to launch such businesses, but the operators predicted (quite wrongly) that there was a lot of money in WAP and invested enough to make sure they maintained control of the digital connection, so alternatives never took root.
This is one of the reasons Telefonica Digital is so enthusiastic about the Firefox OS, driving Mozilla's development of the HTML5 phone to provide a flexible platform which can be customised depending on how it is being used. A handset with an HTML5 interface can be repainted in a moment, allowing the interface to reflect the service used rather than the network over which it is being accessed.
But the final stage of the Telefonica Digital vision goes even further than that, with the TuCore opening up APIs allowing third parties to create telephony apps capable of integrating with Telefonica's core services. Both TuMe and TuGo are already using those APIs, and opening them up is a matter of risk assessment rather than technical development.
Once they are open, then anyone will be able to create telephony clients, and applications, using Telefonica's telephony core. The APIs identify customers with a username and password (OAuth), but the phone number remains the unique ID to which everything is linked.
The experiment might be the future of telephony. Even if we give up numbers entirely in the west there's a whole world which is still getting used to them, so they'll probably be with us for a while, but while the numbers might remain there's little reason to lock them to a specific infrastructure.
If telcos are going to avoid becoming bit-pipes with razor-thin margins, they desperately need to innovate beyond outbidding each other for scant radio spectrum. Telefonica Digital's approach might not be the answer, but it is an answer, which makes it well worth keeping an eye on. ®