Are you receiving?
Incidentally, out of the box the only Google app installed on the Z9 Mini is the Play Store, but once you launch that and sign-in with your Google account you can download all the other Google apps you want. There is none of the argy-bargy or faff I had with the Xiaomi Mi4.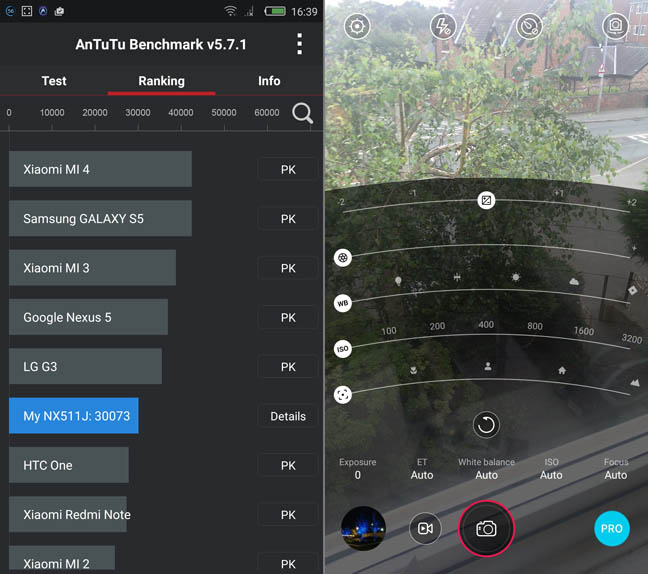 AnTuTu ranking and camera 'pro' settings. Click for a larger image
Running the AnTuTu benchmark returns figures of around 30,000, which to put into context isn't all that far below the Nexus 5 and LG G3, both of which were flagship devices not so long ago.
The Adreno 405 graphics processor lets the side down a bit. Running the 3DMark Ice Storm Extreme test resulted in a pretty poor score of just under 7,000. That said, it's still more than up to the task of playing even the most demanding 3D games from the Google Play Store like Nova 3, so I wouldn't let the low test score put you off.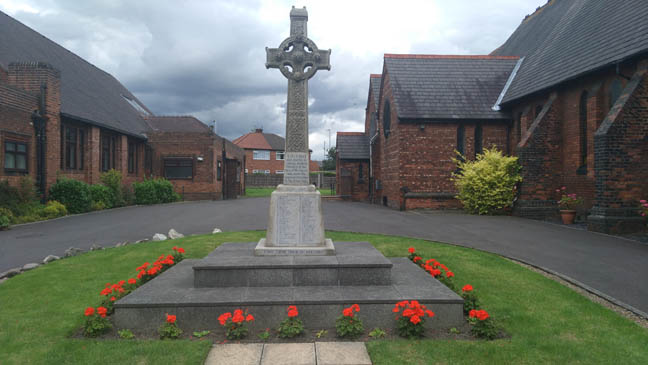 Shot in gloomy conditions still looks well-exposed. Click for a larger image
The Nubia's 16MP camera has a 1/2.6-inch sensor and is a bit of a cracker. No matter what the prevailing lighting conditions, the resultant images were crisp, balanced and colourful. There is also a useful selection of manual overrides (ISO, colour balance, exposure etc) in the Pro menu.
If you want to take photos of yourself the 8MP webcam produces a quality selfie and can record video at 1080p. The only photographic downside is the absence of 4K video recording, a limitation of the chipset rather than the camera components.
As you'd expect in this day and age, the Nubia Mini supports 4G/LTE networks. To be exact: bands 1 (2100MHz), 3 (1800MHz), 7 (2600MHz), 38 (2600MHz), 39 (1900MHz), 40 (2300MHz) and 41 (2500Mhz). By my calculations that means EE and Three users are OK, but Vodafone and O2 customers are stuffed. Still, with support for two nano-SIM cards, both of which remain on standby, you can get around that by using a PAYG data SIM from EE or Three alongside your regular card.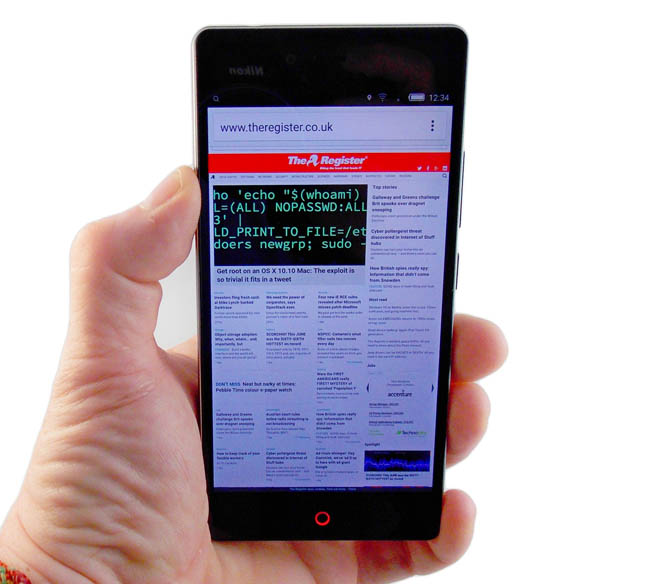 Pocket friendly handset that's worth a punt if you're cellco plays nice with its 4G/LTE bands
The Reg Verdict
The ZTE Nubia Z9 Mini is a strong contender for the title of Best Mid-Price Smartphone on the market. With its large battery, excellent camera, up-to-date version of Android, high-quality HD screen and top-end looks and build quality, you can't seriously ask for more for the money.
The only slight failing is the lacklustre performance of the graphics processor and the odd functions and design of the capacitive buttons below the screen. It raises the question why the heck doesn't ZTE sell the Nubia range here in Blighty? Answers on a postcard please... ®
Thanks to GearBest for the loan of the review sample.

ZTE Nubia Z9 Mini: The able Android smartie the company won't sell you
Android 5.0.2 handset with a 5-inch 1080 x 1920-pixel display, octo-core Qualcomm MSM8939 Snapdragon 615, 2GB of RAM, 16GB internal storage and micro SD expansion
Similar topics