Acer Iconia Tab A700 32GB HD Android tablet review
Media darling
---
If you're looking for a cheap 10in Tegra 3 Android tablet, I'd say buy an Acer A510. If you want one with a 1080p screen and have deep pockets, then take a look at the Asus Transformer Infinity. Now, if you want something in between, with the Infinity's screen resolution but the A520's relative affordability, well, that's a different question altogether.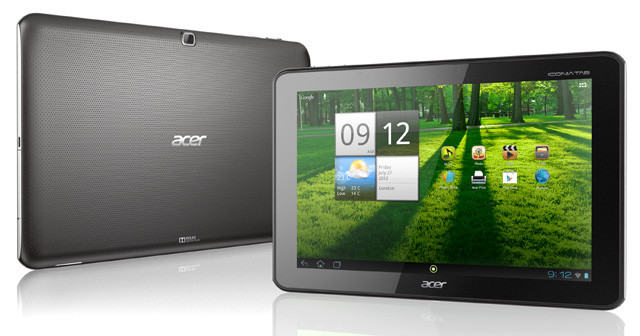 Tasty Tegra: Acer's Iconia Tab A700
Still, on the face ofit, Acer may have just plugged that gap with the A700. It's a 1920 x 1200 Tegra 3 machine with an RRP of £430, which means, in due course, you should be able to find one at retail for close to four hundred knicker, if not less.

Side controls and mini HDMI interfacing
If you were expecting the A700 to brag its screen with some funky exterior styling, you are flat out of luck. Compared to Asus' swirly Transformers or Samsung's – look-it's-clearly-not-an-iPad – Galaxy Note 10.1, the A700 is a bit of a Plain Jane and looks a lot like the A510.
Personally I have soft spot for gadgets that are not too visually declamatory so I'm happy with the A700's looks. No criticism of the build quality either: it's built like a brick outhouse and has a very pleasant to the touch dimpled behind. It's also very close to the A510 in size too, but at 665g your arms have to support 15g less.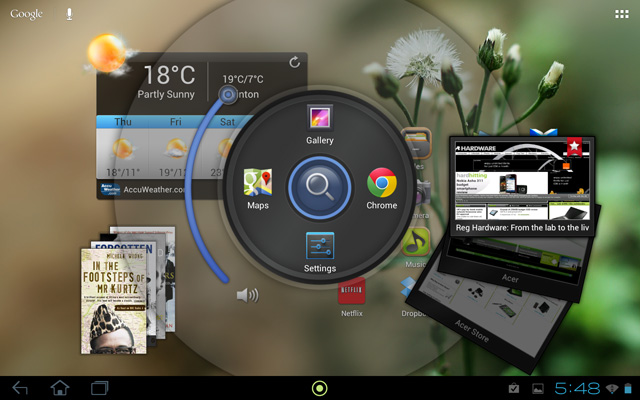 Acer's ring interface enhancement
According to the spec sheet the A700's screen is a traditional TFT LCD panel like the A520's but it is quite obviously brighter and more colourful and the viewing angles have been improved too. Exactly what Acer has done to the screen is anyone's guess but it has certainly done something.