Vexed Virgin Media customers dissatisfied with the telco's SuperHub kit are having to resort to buying their own routers to try and get the service to work adequately.
The modem/router combi networking box supplied to VM punters has repeatedly been flagged up as crappy and not fit for purpose by some of its users. Complaints have continued to trickle into Vulture Central about the kit's inability, among other things, to offer stable wireless connections.
However, when asked at what point Virgin Media might altogether ditch the SuperHub - given its poor performance record - and develop a product that actually works for its customers, a spokesman at the ISP dismissed the suggestion, saying the latest problems were not related to any hardware issue.
He added that only a "tiny proportion of customers" continued to grumble about either corrupt downloads or flaky wireless connections, but didn't tell us exactly how many VM subscribers were affected.
It's certainly the case that the word SuperHub is synonymous with Fail in Virgin Media's noisy forums as well over at Twitter.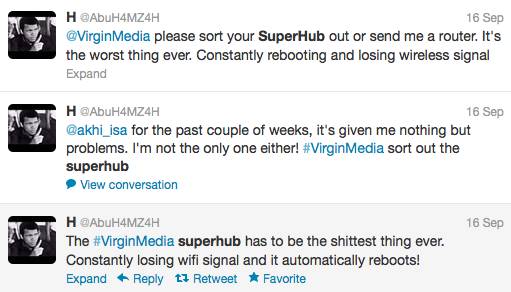 Not exactly super, is it?
The VM spokesman claimed that the latest issue with corrupt downloads only reared its ugly head when the company updated the SuperHub's firmware to version R36, which happened back in July.
Here's the official statement from the telco:
We have been working at the highest priority to develop new firmware to help address the issues reported by some of our customers when using the SuperHub.

So far we have released two updated test versions which have been tested by trial customers and internal teams and are imminently due to release another test firmware this week which we hope to resolve remaining issues.

Following successful testing, we will aim to release this as soon as possible. We are keeping customers updated through our forums and any customers wishing to apply to test the new firmware before general release should register their interest in the forum threads. We apologise for the inconvenience.
We were also told by the company's spokesman that it was a VM customer's "prerogative" to spend cash on a separate router as the problem, he insisted, was a firmware one and nothing to do with the SuperHub's hardware. ®