'Stuff must be FREE, except when it's MINE! Yarr!' - top German pirate
Talks like a pirate, walks like a 'privileges pussy'
---
A senior German Pirate Party executive who once described intellectual property as "disgusting" has resorted to the DMCA to thwart pirates. Executive board member Julia Schramm [bio] has written diatribes against what she calls "the content mafia". That was before she snagged a €100,000 book deal with Random House, the publisher owned by media giant Bertlesmann, a company which lobbies for stiffer online copyright enforcement.
Der Spiegel reports that sites hosting pirate versions of the book, Click Me have received DMCA take down notices from Random House's legal department.
Of course, Schramm herself may know nothing of the copyright policing - and as you read this, may be engaged in a consciousness-raising liquid-feedback session with the company's lawyers, to free the material. Or she may not.
But what was she doing signing up with "Big Content" in the first place? As Mark Splinter of grassroots copyright campaign Copylike mused:
"That awkward feeling when you realise the stack of cash you received was part of a commercial contract against your beliefs? Priceless".
It's a good illustration of the observation made here earlier this year by Mark Bide:
"Privacy and copyright are two things nobody cares about unless it's their own privacy, and their own copyright."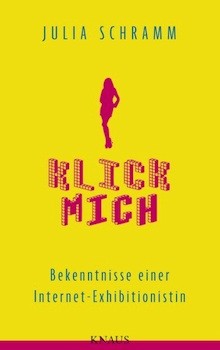 Schramm won't be the first activist to discover, quite unexpectedly, that copyright protection has its uses.
So what's the book about, then? A rough translation, provided by Google, describes Schramm as a "political scientist, journalist, pirate, provocateur, privileges pussy*, post-gender feminist, politician" and continues:
"My name is Julia and I live on the internet. I'm pretty happy, have friends that I know and can only digitally off whenever I want. I can be anything on the Internet: Mafia boss, Barbie, Hitler, owner and a little green crocodile. On the computer I am God. And I feel great - great evil, cold and calculating. From a young age, at 13 or 14, I was aware of the seemingly endless possibilities for constructing identity. The Internet was the place where I saw everything for the first time: love, sex and betrayal. Enlightenment, freedom and politics. There, talk, laugh, cry and think I do. For I am a child of the digital age, I am the one that comes from the Internet. And that's my story. "
A job in the No.10 Digital Policy Unit awaits. ®
Bootnote
*No idea here either. Any guesses?
Similar topics
Narrower topics