A French study claiming to link genetically modified crops to cancer has come under fire almost the instant it was released.
The study has dropped like a bomb into the "Frankenstein crops" debate. Californians are due to vote in November on Proposition 37 which would mandate GM labeling on all foodstuffs. In Australia, Greenpeace activists last year destroyed a CSIRO experimental crop in Canberra.
Under lead author Gilles-Eric Séralini of the University of Caen in Normandy, the study describes itself as "the first long-term peer reviewed toxicity study into the health impact of a GM tolerant maize crop and the world's most popular herbicide, Roundup".
The paper has been accepted by Elsevier's Food and Chemical Toxology. It makes the claim that over the two-year study, a diet of Roundup-tolerant maize produced the same toxic effects in the rats as putting a homeopathy-like dose of Roundup in their water (it claims that effects were measurable down to 0.1 parts per billion).
The startling – terrifying if true – effects described in the study include giant breast turmours in females, and disabled pituitaries, leading to "two to three times" the normal female mortality; while males suffered "liver congestions, necrosis, severe kidney nephropathies and large palpable tumors".
And the numbers? According to the study, as many as 80 percent of the rats on the GM diet or Roundup water developed tumours in the first year of the study, compared to 30 percent of the control group (the reason there's so many cancers even in the control group is this: the rats used in the study are a type bred for their susceptibility to cancers – the albino Sprague-Dawley breed.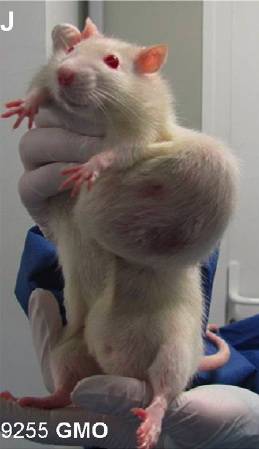 Gruesome - but did GM corn cause
the tumours in the study?
The Sustainable Food Trust has the full paper here (PDF), under the headline "'Safe' Levels of Round-Up Weedkiller and GM Corn Found to Cause Tumours and Multiple Organ Damage".
However, criticism of the study has also been instant. New Scientist delved into the data and points out that while some test groups fared poorly in the study, other test groups had better survival rates than the control group. It also notes that the test groups (those fed the GM crop or watered with Roundup) were larger than the control groups.
Both New Scientist and the BBC also note that journalists could only get early access to the embargoed paper if they also signed a non-disclosure agreement, preventing them from seeking third-party scientific comment on the paper before publication.
That secrecy is curious, since the study was backed by the Committee for Research and Independent Information on Genetic Engineering (Séralini is head of its scientific board), which says it is devoted to making "every effort towards the removal of the status of secrecy prevailing in genetic engineering experiments and concerning genetically modified crops".
The French government has leapt in with both pieds, promising an investigation into genetically modified crops. France's health agency, ANSES, has been asked to provide an opinion, and a joint statement by the ministers of agriculture (Stephane Le Foll), ecology (Delphine Batho) and health (Marisol Touraine) raises the possibility of an "emergency suspension" of imports of Monsanto's NK603 maize. ®
Update: The UK's Science Media Centre has posted a page of expert comments here. ®