Ten backpacks for tech-heads
Carry on computing
Crosskase Fusion/Solar

We took a look at two designs from new British company Crosskase, the Fusion 3-in-1 and the Solar, both of which show the firm thinks outside the box when drawing up bag blueprints. The 3-in-1 Fusion takes its name from an ability to switch between Backpack, Messenger and Tote mode, thanks to an additional strap and the capacity to tuck the backpack bands into the pouch hidden behind them.
Designed to carry up to 15.6in notebooks, the Fusion is awash with pouches and slots, perhaps even too much so. None are really that spacious for anything other than tech, though. It feels more like a messenger bag with backpack straps and a vertical alignment, however despite the strange design, the 3-in-1 has an odd charm too and is undoubtedly protective of your tech. It is fairly pricey, but it can't be cheap to make something with so many pockets, clips and flaps, and this is hardly your average backpack either.

Neither is the second model, the aptly named Solar, which has a traditional backpack style, coupled with a mammoth 3W solar panel on the outside. This connects through mini USB to a portable 2200mAh battery unit, which has an input for charging mobile devices.
It's a novel idea, and may prove handy in situations when you're out of juice and desperate to make a quick call, however in practice, it seems you'd need a lot of sunlight. You can charge the battery unit through the mains, though, which defeats the object, but at least it would only ever needs slight solar top-ups rather than a full refresh.
A pouch within the main pocket holds laptops of up to 15in, while various pouches within the front pocket are reserved for other tech. The company has paid attention to detail and even includes a rain cover, tucked discretely in a zip pouch on the bottom of the rear.
Considering there's a massive futuristic panel on the front, the Solar is of average size and definitely one I'd use for my everyday journeys. Whether I'd pay that much for it in such a gloomy country is doubtful, backpacking in Oz would be a different matter though.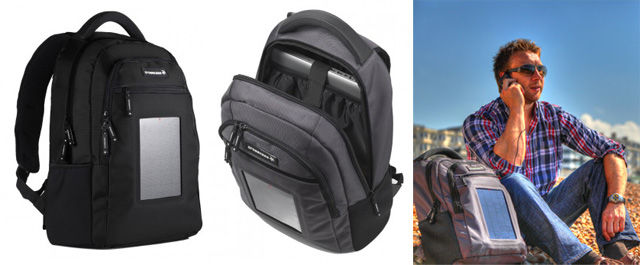 Reg Rating 75%
Price £80 (Fusion), £130 (Solar)
More info Crosskase
Crumpler Free Wheeler Backpack

Crumpler has built such a following since its launch in 2001, that it gets away with charging rather extortionate prices for its bags. Financials aside, it does make some pretty snazzy laptop backpacks and has a wide range of styles to suit most needs.
I took a look at one of the firm's latest models, the Free Wheeler, which has that distinctive Crumpler 'big front flap' look, coupled with the 'Ziptease' style of making everything more reachable through a vertically aligned zipper. The Free Wheeler Backpack has plenty of gadget pockets and fits 13in laptops. It's sturdy, durable and offers more than enough protection for your gadgets. It's also one of the company's more inexpensive models.
If you're willing to spend that much on a backpack, the Free Wheeler is a decent purchase and although most thieves know exactly what's in a Crumpler bag these days, their quality seems to justify the cost.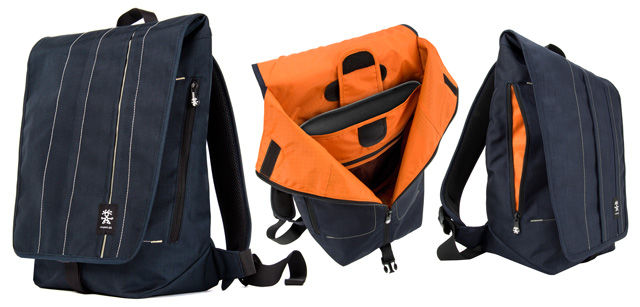 Reg Rating 80%
Price £80
More info Crumpler