Who queues for an iPhone 5? Protesters, hipsters and the jobless
These lubbers be strange 'uns, and no mistake
Apple fanbois - Idlers bumming coffees off people? Shurely not
Number seven was an unemployed man from Spain, in line to buy a phone for his sister. "If I stay at home I do nothing, if I come here I can get a iPhone 5 for my sister and my brother in law," he said. When we asked him why he had chosen to sleep on the streets for three nights in order to get her one, he explained: "My sister said the first ten people get this…" and gestured at El Reg's camera.
Emmanuel Paulo, 33, has two children - one 6 months old - back in Spain, and was in the UK looking for work as an welder. He hopes to get a job if he passes a test next week. We'll give him the number of Reg Special Projects Editor Lester Haines, mainspring of our Iberian Bureau, and sometimes needs help from skilled tradesmen.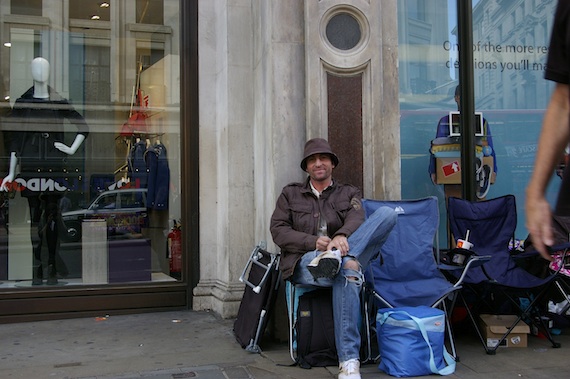 Emmanuel Paulo: "Things are bad in Spain"
Round the corner of the store was a further line of queuers, including part-time student Bishuro Shakya, 23, buying an iPhone 5 for his girlfriend. Asked why he had decided to queue three days in advance of the product launch, he added that he wanted to be one of the first people in the country to get it. Shakya said he didn't know how much memory he wanted but said that would have time to think about it over the next 72 hours.
Next was a man staring lock-jawed at an iPad with earphones in and a resentful expression, two camera-shy youngsters and three men who told me they wouldn't tell me their names. The trio offered only this explanation for why they were sitting on a street corner for a product that will not go on sale until Friday, but can be ordered online and will later be widely available in shops:
It is the same reason everyone else is here - we like it!
In a spirit of financial opportunism that would be appreciated by Apple founding father Steve Jobs, these fanbois suggested that your humble hack pay them for the privilege of probing further into their irrational choice:
Questions, questions - everyone asks the same questions. We're thinking of charging £5 for every question. Maybe we'll give you a 10 per cent discount if you ask a lot.
At this point I asked to take a picture and two of them ran off, the third accepted that it was a public street.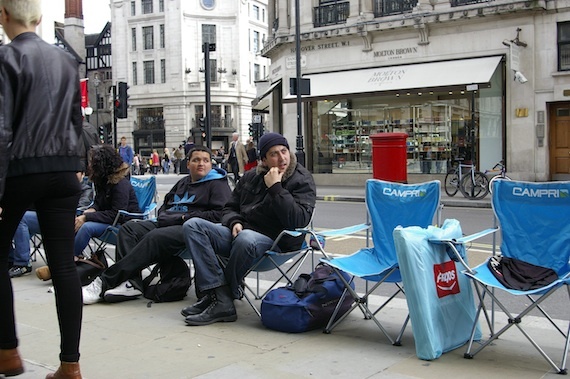 You can hide for the photo, but everyone walking down London's busiest street can see that you are queueing for the next iPhone
They finished with this salvo: "Oh you're coming back on Friday! Why don't you bring us a coffee?"
Rest assured we shall certainly not be bringing them a latte, cappuccino, frappuccino ... or even a coffee for people who like the taste of coffee, as opposed to milk. ®