The US Defense Advanced Research Project Agency (DARPA) reports that field trials of a new threat detection system, which augments cameras with a human operator's brainwaves, has shown remarkable success in spotting potential threats.
DARPAs been working on the snappily titled Cognitive Technology Threat Warning System (CT2WS) since 2008 to deal with a basic problem for the military: spotting threats from afar before they get to you. The thinking was that automated systems can spy out the landscape, leaving soldiers free to deal with the actual fighting.
To do the job, the boffins built a 120 megapixel camera capable of scanning across 120 degrees of view, taking multiple images and then using software to identify if an image contained a bush blowing in the wind, or movement from an enemy stalking the camera's position.
The problem is that such machine systems are more trouble than they are worth. DARPA reports a false-positive rate of 47 per cent in testing, which is effectively useless, since almost half the time people are alerted to a threat that isn't. So the DARPA boffins decided to augment the system by scanning a human viewer's brainwaves subconsciously.
Human beings are remarkably good at spotting potential threats by scanning for visual signals, something we developed over millions of years of hunting and being hunted (or as a miraculous gift from a benevolent god in the last few thousand years, depending on what you believe). Even subconsciously, the brain can spot movement or visual clues, triggering a brainwave identified as P-300 by researchers.
So the original camera is now augmented by a human operator wearing an electroencephalogram (EEG) cap that scans for the P-300 signal. Unlike the rent-a-cops scanning CCTV systems for suspicious behavior today, the operator is flashed 10 images a second from the camera to see if they trigger the P-300 response, which is then fed back into the system to cut down on false positives.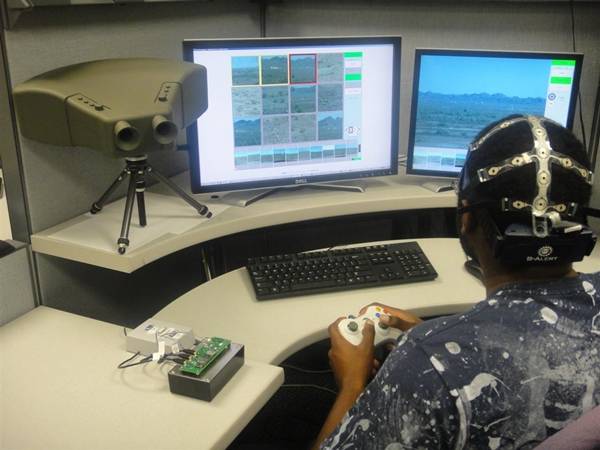 DARPA wants brains
"DARPA set out to solve a common challenge for forward troops: how can you reliably detect potential threats and targets of interest without making it a resource drain?" said Gill Pratt, DARPA program manager, in a statement. "The prototype system has demonstrated an extremely low false alarm rate, a detection rate in the low nineties, all while reducing the load on the operator."
The new human-augmented system cut the false-positive rate to just 9 per cent, which is good but still not good enough. By adding a commercially available Cerberus Scout radar unit to the camera system DARPA is reporting it has proven 100 per cent effective in spotting visual threats in desert, plains and jungle testing.
The revised system will now be sent over to the Army's Night Vision Lab for operational development and deployment. But while El Reg applauds the technical innovation of CT2WS, it would be a reckless officer who only relied on software to keep their troops safe. ®