Salesforce CEO: Social is god and Zuck is its prophet
Are we 'Facebook for enterprise' yet?
Dreamforce 2012 "Business is social" is Salesforce.com CEO Marc Benioff's mantra these days, and throughout his sprawling, star-studded keynote at the company's Dreamforce 2012 conference in San Francisco on Wednesday – which ran nearly a full hour over schedule – he seemingly couldn't repeat it often enough.
"This social revolution that's going on right now, and we've been talking about this for several years, is unlike anything we've experienced before," Benioff bellowed as he strode out into the keynote audience, following a brief and inexplicable surprise performance by superannuated rapper Hammer.
"That amazing social revolution is really touching society," Benioff continued. "It's touching all of us. It's touching our personal lives. It's touching our companies. Every aspect of our world is changing."
For Salesforce, responding to those changes has meant injecting social features into nearly every aspect of its platform as part of its ongoing efforts to reinvent itself from a cloudy CRM vendor to "the enterprise cloud computing leader."
The company's social-for-biz efforts began in earnest with the launch of its hosted Chatter platform in 2010. Since then, it has gradually added features and acquired companies to help steer its cloudy business platform to more closely resemble its favorite role model.
"When we think about making applications social, there's no company that inspires us more than Facebook," said Salesforce COO George Hu as Wednesday's keynote presentation lumbered past the two-hour mark.
He clearly meant that literally. Earlier in the show, when Salesforce president Hilarie Koplow-McAdams introduced the company's new Chatter Communities for Partners – a product that allows companies to build private, branded social media sites for interacting with suppliers and other partners – her description of it was succinct.
"Think of this as Facebook for partners," she said, "but private and secure."
Other new products announced at this year's Dreamforce followed a similar theme. Fergus Griffin, Salesforce's senior VP of product marketing, didn't go as far as to describe the new Chatter Communities for Service as "Facebook for customer support," but by that point in the show, he didn't have to.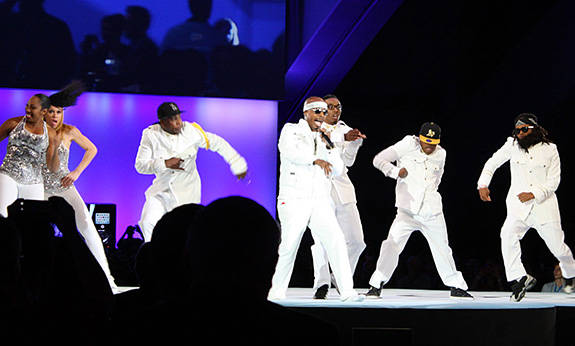 2 Legit 2 quit enabling the social enterprise: Hammer and crew performing at Dreamforce 2012
George Hu wasn't ready to let go of the theme, though. Point by point, as he introduced new features of the Salesforce developer platform, he reiterated the company's chief source of inspiration.
On Salesforce Identity, a new single sign-on feature for cloud and mobile apps: "Just like you have a Facebook identity that is your single social identity for your consumer life, now Salesforce can be your identity for your enterprise life."
On a new feature that allows developers to integrate their custom apps into the Salesforce UI: "Just like Facebook has created a technology called Canvas to allow third-party applications to plug in seamlessly into the Facebook experience, we've created Force.com Canvas to allow you to do the same thing."
And so on. By the time the house lights came up, nearly three hours after Benioff took the stage to describe Facebook's Mark Zuckerberg and Twitter creator Jack Dorsey as "new prophets", if anyone wasn't convinced that Salesforce was determined to become the Facebook of the enterprise, they had probably fallen asleep.
But talk is cheap, and if there's one thing longtime Dreamforce attendees have learned, it's that there are no Steve-Jobsian "one more thing" moments at Salesforce conferences. Benioff first pitched the company's Chatter platform at Dreamforce 2009; it didn't launch until seven months later, and it still hasn't matured into an integrated enterprise social platform to match Benioff's lofty promises.
In the case of the new social products announced at this year's Dreamforce, most aren't even available as pilot programs yet, and several won't reach general availability until winter 2013. By that time, yet another Dreamforce conference will have come and gone, and with it what will likely be a very familiar-sounding keynote from Benioff. ®