This article is more than 1 year old
iPhone queue 'superficial and pretentious' says queuing fangirl
Reg hack braves world's first iPhone sales frenzy, films weird Apple rituals
Vid Apple Stores have started selling the iPhone 5 in Australia, the country where this kind of thing happens first thanks to accidents of geography and the location of the International Date Line.
Your correspondent was there and can report that, in the suburban store he visited, the sale was an orderly affair.
Our first encounter with the Apple faithful came at 7:25 AM on King Street, Newtown, a hip suburb adjacent to a university but now too expensive for students to live in. Newtown's Telstra store had a big arch of balloons at its entrance, but just two fanbois queuing as we zipped past at 7:25 AM.
We made it to the Broadway Shopping Centre at 7:40 AM, and were greeted at the top of travelator by an Apple Store employee pointing out one line for outright purchases and another for those who wish to sign up for a phone on a carrier's contract. The former line had about 300 people in it, each willing to pay at least AUD$799 for a new handset. The latter had maybe 50.
The first person in the outright purchase line declined to speak to us, but lucky number two, a student who told us his name is JD, said he finished his last exam yesterday and thought a grand way to kick off his a week of holidays was buying an iPhone 5. He had no particular reason for wanting in iPhone. Third in line was Spanish student Ricardo, in Australia to study English and keen for the experience of an all-nighter. Both had arrived at about 10:30 PM on Thursday night.
Fourth in line was Lin, a Chinese accountant working in Australia, who said queuing in the 'burbs was a far better idea than going to Australia's Apple mother ship in Sydney's central business district. At that store, she said, fanbois had queued for days, outdoors. Broadway shopping centre is just two kilometres away in an inner-city suburb of the sort that becomes trendy when media companies and high-density housing arrive within a couple of years of each other.
Apple seems to have worked with management of the shopping centre, as those in the queue told us they'd been met at the door by centre security who managed the overnight queue. At 6:00 AM Apple staff and centre security marched them, single file, to the Apple Store. A nearby café was onto the opportunity, offering to bring coffee to those in the queue so they wouldn't lose their place.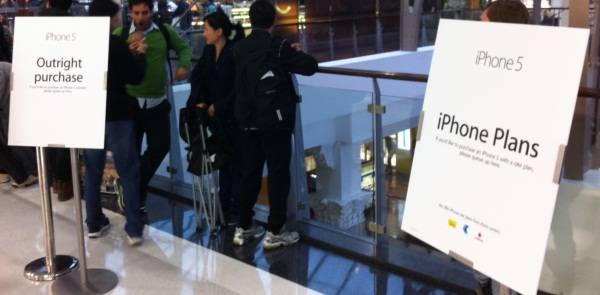 Signage manages queues at the Apple Store, Broadway
Downstairs at the mall's Optus store, 20 faithful queued at 7:50 AM, and most were rather smug about the shorter queue they faced. Physics student "Jessica C E", who was second in line at Optus and wore rather natty pink flannelette Cookie Monster pyjamas she would not allow us to photograph, proclaimed queuing overnight "absolutely retarded, superficial and pretentious." 23 year-old nursing student Amy proclaimed "I just need a phone that works: I've got a BlackBerry now".
Back upstairs at the Apple store, the staff stood in a ring while someone we presume was a manager revved them up. A couple of minutes before 8:00 AM, various whoops and high-fiving rituals commenced before the store's doors glided open and the first folks from the queue were allowed in. Mysterious black-shirted staff hovered in the background, as you can see in the video below.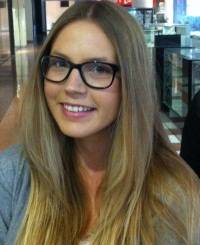 23 year-old nursing student Amy
owns a Blackberry and
'wants a phone that works'
We caught up with Lin not long afterwards as she clutched two iPhone 5's, one in each colour. She proclaimed herself happy, but looked relieved and tired. The Genius Bar had been closed to allow for more staff to sell more iPhones.
Downstairs at Optus, meanwhile, staff had opened the doors just enough to let a handful of customers in. The queue seemed to be moving slowly.
There were no such problems at one of the mall's Vodafone stores, which had no queue and no customers, doubtless twin results of the carrier's numerous network failures and lack of a 4G network.
And the phone itself? Your correspondent handled one briefly in the Apple Store and can report it is pleasingly light, so much so that an Apple Store staffer joked it may be disconcertingly so. Even in its elongated form, it fits nicely in the palm. But it's just an iPhone: nothing startlingly new is immediately apparent. ®