This article is more than 1 year old
Astronomers tell story set a LONG time ago in a galaxy far, FAR away
13.2 BEELION lightyears, when the universe were but a pup
The Hubble telescope has detected starlight that comes from a galaxy 13.2 billion light-years away, scientists reported today. The galaxy is believed to be the most distant object that humans have ever seen, says the paper in the journal Nature.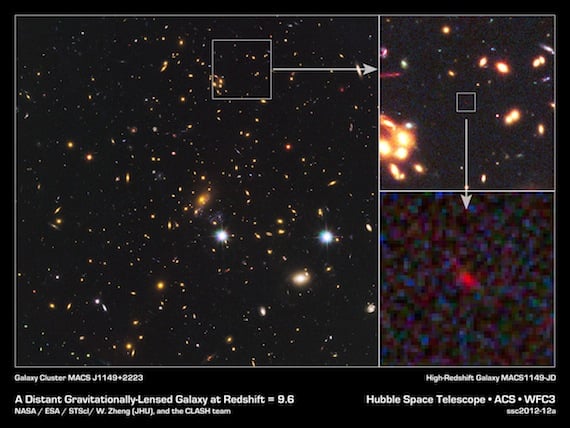 Long ago: Far, far away
Astronomers including the Carnegie Institute's Daniel Kelson using NASA's Spitzer telescope and the Hubble spotted the far-flung galaxy thanks to a light-warping effect predicted by Albert Einstein that has magnified the rays.
Sight of the far-off galaxy opens up a portal to the past: the light shows the galaxy as it was 13.2 billion years ago, when the galaxy itself was about 200 million years old and the universe was only 500 million years old, 3.6% of its current 13.7 billion years, and emerging from a cosmic dark age.
"These first galaxies likely played the dominant role in the epoch of reionization, the event that signaled the end of the universe's Dark Ages," Kelson said. "In essence, the light was finally able to penetrate the fog of the universe."
The galaxy as we can see it is small and compact, which fits with the current theory that most galaxies started off small before merging with other galaxies to create the huge ones we know today.
The new galaxy is an excellent find for researchers poring into this early stage of the universe's life.
Human telescopes by themselves would not be able to detect the faint light signals coming from the ancient galaxy, so the Spitzer and Hubble teams made use of an effect called "gravitational lensing".
In this phenomenon, predicted by Albert Einstein a century ago, the gravity of foreground objects warps and magnifies the light from background objects. A massive galaxy cluster situated between our galaxy and the newfound, early galaxy magnified the light, brightening the remote object some 15 times and bringing it into view. ®