This article is more than 1 year old
Oracle gears up for infrastructure cloud and 12c database launches
Hardware drags down sales in fiscal Q1
Larry Ellison has let the cat out of the bag about some announcements that Oracle is making at OpenWorld in San Francisco. The much-awaited Oracle 12c database is coming in two weeks, as is an infrastructure cloud service for the Oracle Cloud, he announced on Thursday.
Oracle 12c will sport features for secure multi-tenancy within a single database instance – something that Ellison has bashed as an idea in the past. It will be "cloud-enabled" - just as Oracle 9i was "Internet ready" and Oracle 10g and 11g were "grid-enabled,". In other words 12c could be clustered.
Ellison was on a conference call discussing financial results for the first quarter of fiscal 2013, and as CEO, letting cats out of bags is Larry's prerogative.
The Oracle co-founder disclosed few details, but said the company had worked hard to make 12c secure for multiple tenants and that the company aimed to go live sometime between December of this year and February of next year.
On the infrastructure cloud front, Ellison said Oracle would announce virtualized cloudy slices on its eponymous cloud service, complementing the existing SaaS services and Java-Oracle database platform cloud that the company has been peddling.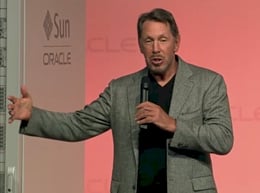 Larry's clouds
Again, this is a bit sketchy, and intentionally so, but Ellison said that Oracle will sell both raw compute and raw storage services on its cloud – you kinda have to.
The company will also allow customers to set up an identical private cloud based on their own premises, managed by Oracle if they wanted. This will allow them to move applications back and forth from their clouds to Larry's clouds.
Openworld, the company's annual extravaganza, kicks off in San Francisco on September 30 and we should hear some more details then.
Software humming right along
Onto the financial results for the first quarter ended in August. During the period, Oracle's overall sales fell 2 per cent, to $8.18bn, but net income rose by 11 per cent to $2.03bn.
Safra Catz, who is co-president and acting CFO at Oracle, alongside co-president Mark Hurd (who runs sales, more or less), said on the call that a strengthening US dollar hit revenues to the tune of five per cent and that greenback-to-other ratios whacked profits by six per cent.
Catz forecast that new software and cloud license revenues in the second fiscal quarter ending in November would rise between 4 and 14 per cent, with hardware sales down anywhere from 8 to 18 per cent. Overall, Oracle expects sales to be anywhere from flat to up 4 per cent year-on-year, with earnings per share of 45 to 49 cents. Oracle's earnings per share were 41 cents in the August quarter.
In the August quarter, Oracle's sales of new software licenses and subscriptions to cloud services rose five per cent, to $1.57bn, and software license and support update sales were up a more muted three per cent, to $4.14bn. Catz said that cloud-based software sales were $222m, and Hurd piped in that software sales were a little bit better than expected, with cloud revenues on track to hit a $1bn annual run rate next quarter.
Oracle is no longer breaking out database, middleware, and application software sales separately, so we have no idea how these business units are doing individually anymore.
Exa machines to eclipse Sparc boxes this year
In the quarter, hardware system product revenues, which means primarily servers, storage, and switches plus a smattering of Sun Ray thin clients used in virtual desktop infrastructure installations, fell 24 per cent in the quarter, to $779m.
Support revenues for installed hardware systems added up to $574m, falling only 11 per cent and good by comparison. Add them together, and combined hardware systems sales in fiscal Q1 came to $1.35bn, falling 19 per cent year-on-year.
Now, Oracle has bragged for years that it would stop selling onesies and twosies of low-margin x86 boxes as well as giant supercomputer clusters where there is usually no profits to be had and focus on "engineered systems" like its Exadata and Exalogic machines and the Sparc SuperClusters as well as upgrading existing Sparc/Solaris shops with its Sparc T and M series of servers.
This seemed like a very grown-up thing to do, and the idea was to get the business back to solid and respectable profit levels. In the current quarter, operating expenses for the hardware systems business (including both products and support) fell by 20.9 per cent, to $608m, with support actually coming down a little faster.
And when you do the math, Oracle's operating profit for hardware only fell by 17.7 per cent to $745m, giving its systems business a gross margin of 55.1 per cent. That's a full point better than a year ago.
To give you a sense of how much smaller the Sun inside of Oracle is compared to the free-standing Sun Microsystems, in the last quarter that Sun reported its own independent financial results, in September 2009, the company had product sales of $1.19bn, services revenues of $1.06bn, and it booked a $120m loss.
In June 2010, when the first full quarter of Sun sales were in the quarter ended in May, Oracle hardware business reported $1.23bn of revenues, with systems support bringing in $598m in revenues for a total of $1.83bn.
Those products generated an operating profit of only $406m. Oracle did the right thing and focused on profitable sales, but then sales have continued to drop even as it squeezes out some growth in operating margins. Some of this could be due to expected Sparc T5 and Sparc64-X processor transitions from Oracle and Fujitsu.
The Sparc goes out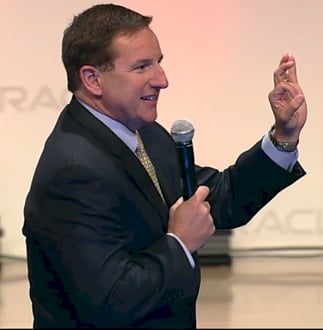 Hurd: Exa doubles
On the call, Hurd said that Exa systems sales (including Exadata database clusters, Exalogic application server clusters, and Exalytics in-memory database appliances) more than doubled in the quarter.
In a statement accompanying the financials, Hurd said the engineered systems family, which includes Sparc SuperClusters, would more than double to above $1bn in fiscal 2013.
On the Unix system front, the Sparc T series entry and midrange server showed double-digit revenue growth and Oracle expects this to continue through the rest of the fiscal year.
Having already shown off the Sparc T5 processor at the Hot Chips event last month, it is reasonable to assume that Oracle will launch Sparc T5 machines next week at OpenWorld, too, and get them out the door as fast as it can.
Hurd said nothing about the midrange and high-end Sparc64-based Enterprise M machines, but if Exa is growing and Sparc T is growing, then it probably means that Sparc Enterprise M and plain-vanilla x86 machines are collapsing, for the numbers to work.
Neither Oracle nor Fujitsu have said they have a deal to peddle Sparc64-X machines as a tag team, but Fujitsu bragged about its Sparc64-X chip at Hot Chips, right alongside representatives from Oracle.
Techies don't get involved in marketing decisions they are not authorized to talk about – not if they want to keep their jobs.®