Conflict-of-interest scandal could imperil Wikimedia charity status
'A positive Wikipedia article is invaluable SEO'
Wikipedia contributors in the UK are concerned that a scandal involving the close-knit group of friends and business associates who run Wikimedia UK may imperil its charitable status.
Wikimedia UK is the group involved in promoting the web project, and it finally won the tax concession in 2011 after being rebuffed two years earlier.
The Wikipedia chapter's chairman Ashley van Haeften resigned last month after the Daily Telegraph reported that he had been banned indefinitely for abusing his website privileges. IT consultant Haeften remains listed as a trustee of the UK charity.
The latest scandal follows an investigation that revealed a Wikimedia UK trustee, and former director, made Wikipedia edits that reflected his private commercial interests.
Until April, IT consultant Roger Bamkin was a chairman of Wikimedia UK: he remains a trustee. In June, Bamkin signed a commercial contract with the government of Gibraltar. In August, Bamkin pushed the Wikipedia entry for Gibraltar onto Wikipedia's "Did You Know" page – one of the most viewed pages on the web – seventeen times, or every two or three days. Topics rarely appear more than once.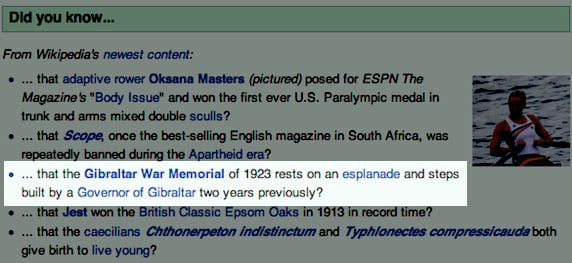 English Wikipedia's 'Did You Know?' box - screenshot taken today
Bamkin also "conceived" and implied he owns the intellectual property for QRPedia software, which is being pushed by Wikimedia UK at the culture and heritage sector as a way of linking barcode-like QR codes on exhibits through to Wikipedia entries. It scored some some success: earlier this year Monmouth became the world's first "Wikipedia town" – the place was plastered with a thousand QR codes linking to Wikipedia pages.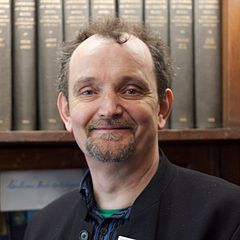 Roger Bamkin
Pic © James Forrester [Restricted Rights]
A similar effort created the project "Gibraltipedia" for Gibraltar, the BBC enthused last week. How did Gibraltar get so lucky? Wales Online reported that:
[Bamkin] picked Gibraltar, at the southern tip of Spain, as his next project after being flooded with invitations from places around the world hoping to be the second Wikipedia town.
But it's not quite so simple.
Old friends, partners and fellow directors
Bamkin's former business partner, PR consultant Steve Virgin, is also a former director of Wikimedia UK and a trustee. Between 1999 and 2001 Virgin "managed [the] virtual press office site and ran UK PR campaign for Gibraltar Tourist Board" according to his biography. Virgin's former clients include IT companies and the United Nations.
As an ex-trustee, Virgin is not obliged to declare his interests – and so he hasn't.
Concerned UK users have called on Bamkin to sever either his commercial interests, or his role at Wikimedia.
The investigation by blogger Violet Blue at CNet also turns up another another curiosity - a consultancy operating from Berkeley, California called Untrikiwiki, run by Maximilian Klein (pictured).

"Invaluable SEO" - copyright activist Klein
Klein, like Bamkin, is another beneficiary of the culture and heritage sector's mania for all-things-Wiki. Like Bamkin, Klein is also also "Wikipedian in residence" for the Ohio College Library Centre, and a committed anti-copyright activist.
Klein's consultancy promised:
A positive Wikipedia article is invaluable SEO: it's almost guaranteed to be a top three Google hit. Surprisingly this benefit of writing for Wikipedia is underutilized, but relates exactly the lack of true expertise in the field ... WE HAVE THE EXPERTISE NEEDED to navigate the complex maze surrounding 'conflict of interest' editing on Wikipedia. With more than eight years of experience, over 10,000 edits, and countless community connections we offer holistic Wikipedia services.
Following CNet's article, Untrikiwiki has responded, promising:
Starting now, and lasting indefinitely, we will not accept any paid conflict of interest Wikipedia editing work. To support this statement, we have removed mentions of the services from our website.
However, the consultancy maintains that:
We believe – strongly – that there's nothing inherently wrong with accepting for-profit engagements that involve contributing to Wikipedia, as long as it's approached in a transparent and ethical fashion.
So that's all right, then.
Special privileges
UK Wikipedia contributors are dismayed by the revelations involving Bamkin and Klein, and fear it may imperil Wikimedia UK's hard-won charitable status, coming so soon after the Van Haeften resignation.
On his LinkedIn page, Steve Virgin boasts of his part in acquiring charitable status for Wikimedia UK in 2011. You may recall Wikimedia's earlier bid for charitable status was rejected by the UK tax authorities in 2009 because "production of an encyclopaedia is not the charitable advancement of education and has not been accepted as such in law", since the factoids must be actively accompanied by a teaching programme. The taxman has evidently relaxed his definition of education.
Charities are exempt from paying income or corporation tax, or capital gains tax. They also receive concessions on business rates and are fast-tracked for taxpayer handouts. UK wikipedians have also unearthed a public grant awarded to Bamkin on the back of Wikipedia. The £17,000 grant to annotate a Wales pathway with links to Wikipedia came via the Ordnance Survey as part of its Geovation Project. "By the way, this needs to be reported to the UK's charity commission, as this could affect WMUK's charitable status," writes one Wikipedia contributor.
Indeed so. The Charity Commission explicitly states that:
(42)It is a general legal principle that those who run the charity (the trustees) should not financially benefit from it, unless they are specifically authorised to do so either by the charity's governing document or by us. Trustees must avoid being placed in a position where their duties as a trustee conflict with their own personal interests.
The community discussion page, with comments from Wikipedia supremo James Wales, is here. Unlike some previous brouhahas, the community appears to be keenly aware of the danger of glossing over the implications. It's a fascinating read. ®