This article is more than 1 year old
Apple scrambled to hire iOS 6 maps engineers DAYS before launch
It's almost as if Apple didn't plan this very well
Apple posted job adverts for six iOS map engineers within the past ten days, perhaps preempting the storm of criticism over the controversial new map app in iOS 6.
Any effort to boost the software's team could be seen as too little, too late after fanbois and fangrrls across the world branded the new satnav-like service as rubbish. Apple had decided to replace Google's map app with its own program in the latest version of its mobile operating system, which was unleashed on the public this week.
Thanks to a tip-off from an eagle-eyed reader, The Register notes that Apple has hired 15 peeps into the maps team this year, starting on 5 July with a call for a "maps engineering project manager, iOS SW".
Since 11 September Apple has posted six job vacancies for iOS software engineers in the maps division - search for maps to uncover the listings. The job descriptions describe "proactive and hardworking software engineers", and make the debatable claim that the lucky hires will be working on "the best mapping program on any mobile platform". It reads:
Our team is responsible for displaying map content for the Maps application on iOS. It is used by millions of customers and it's the best mapping program on any mobile platform.
Well, some would disagree.
Responsibilities in the role include: "Implementing real-time rendering techniques, creating new and innovative features, solving challenging algorithmic problems and fixing problems."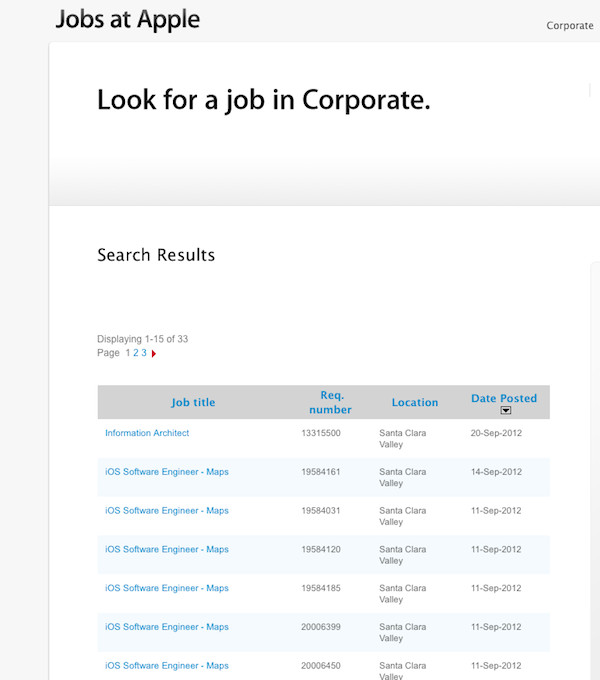 Vacancies for six iOS maps engineers on the Apple website
On 22 August, Apple posted vacancies for two software engineers for "maps navigation", and on 14 August Apple again posted for a "maps engineering project manager". On 3 and 6 August bosses were looking for a server quality assurance engineer in maps and an iOS software engineer who would work in the maps division, respectively.
There were three job ads specifically looking for people for the maps division back in autumn 2011, but nothing in between. It is understood Apple was hiring as early as 2010 for the group.
Perhaps Apple realised rather too late that its maps application wasn't very good, and that it needed new staff to improve it. Surely not at a company with a market cap north of $600 billion. ®