Adjustment Bureau
But not everyone wants a such palm-pulling handset, and the iPhone 5 is a decent compromise between providing extra real estate and remaining comfortable. Also – who knows? – if Apple had gone much bigger it may have reduced the need for the still-mythical iPad Mini.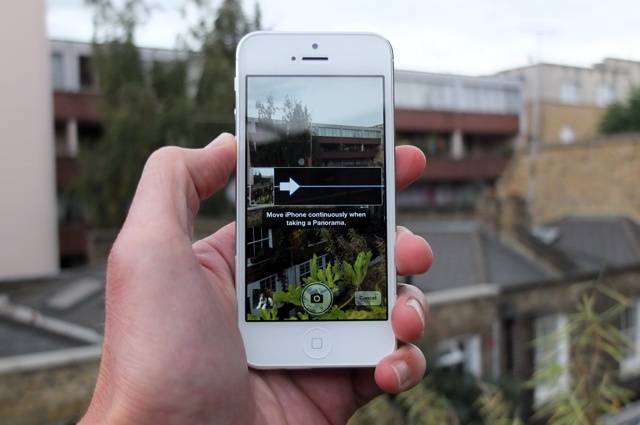 The A6 CPU makes short work of aligning pics into a panorama
The iPhone 5 has a fast processor, the A6 chip. Although Apple don't reveal absolute speeds, the company says it's twice the speed of the A5 in the 4S. There are plenty of fast smartphones on the market and, however many gigahertz it really has, this is very nippy. It never dawdles. This is true of the other flagship phones, of course.
The connector, you'll have heard, is no longer the 30-pin model that arrived with the second-gen iPod in 2003. So it's fair enough that Apple has upgraded it. I mean it's not like a different connector for every phone, which happened on Samsung and Nokia phones at the turn of the century. No, Apple has been consistent here. None the less, the change to Lightning is annoying for people with speaker docks. And that's a lot of people.

Click for full size image
Apple really should have decided to bundle an adaptor, at least if a customer had asked for one, rather than charging £25 for this small but crucial piece of plastic. Yes, it's an active adaptor with on-board chippery converting signals from one port to the other, but Apple has the margins - especially given the number of iPhone 5s expected to ship this weekend - for a little generosity. I'd rather have the Lightning adaptor than yet another USB AC transformer.
Of course, the introduction of Lightning doesn't affect people with AirPlay or Bluetooth speakers, but still.

It's a matter of personal taste whether the 3.5mm headphone jack that's been moved from the top to the bottom of the phone is good or bad. Me, I'm not mad about it, but it's not a deal-breaker.