Apple's brilliant plan to fix iOS Maps: Get YOU to do it
'If more people use it, it will become less rubbish'
Apple has finally spoken out about its new maps application that has raised howls of protest from users, who claim it is less detailed and full of mistakes.
Users have been chronicling the differences between the new maps app in iOS6 and the Google maps app on iOS5 it replaces saying the user experience has worsened and the levels of detail and accuracy are much lower.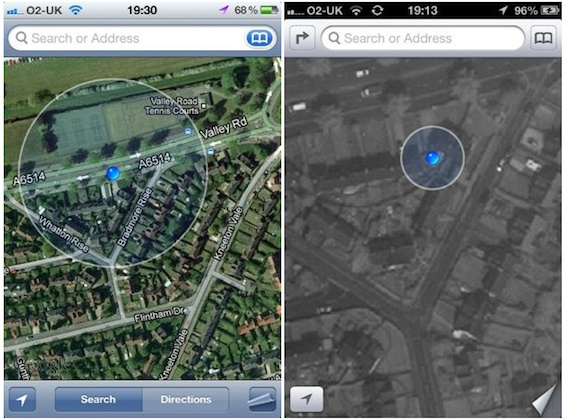 The, err, upgrade in OS 6s
A statement supplied to the Register by the fruitchomp firm has this to say:
We are excited to offer this service with innovative new features like Flyover and Siri integration, and free turn by turn navigation. We launched this new map service knowing that it is a major initiative and we are just getting started with it.
Apple appreciates customer feedback and, er, will continually update its customer experience:
We are continuously improving it, and as Maps is a cloud-based solution, the more people use it, the better it will get. We're also working with developers to integrate some of the amazing transit apps in the App Store into iOS Maps. We appreciate all of the customer feedback and are working hard to make the customer experience even better.
On the Maps application there is the option for users to "Report a Problem" and also to add a business or location that is missing.
Users will still be able to access Google maps via the web on the Safari browser. ®