This article is more than 1 year old
Shuttle Endeavour buzzes the Golden Gate Bridge
Farewell, Endeavour – and NASA's manned orbital capability
Photos Thousands of shuttle watchers lined the shores of San Francisco Bay on a hazy Friday morning to say goodbye to Endeavour as she circled the bay, soared above Marin County, flew across the Golden Gate, circled the City by the Bay, then buzzed the Golden Gate Bridge.
The 20-year-old space shuttle was not, of course, making her flyby on her own power, but rather on the back of NASA's Shuttle Carrier Aircraft, a Boeing 747 outfitted for the task of moving the now-retired shuttles from place to place.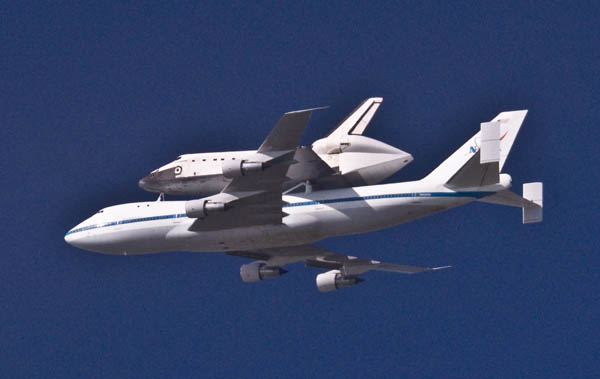 Before circling the city, Endeavour crossed the Golden Gate at low altitude (click to enlarge)
As we reported earlier today, the SCA was ferrying Endeavour to the Los Angeles International Airport, where it will be prepared for transportation to its final resting place at the California Science Center.
The Bay Area flyby had been delayed by one hour due to forecasts of possible morning fog in San Francisco, but when your Reg reporter tried to beat the morning crowds by setting out two hours before the rescheduled arrival, his Marin Headlands destination – west of the Golden Gate Bridge – was already blocked off by traffic control officers due to crowding.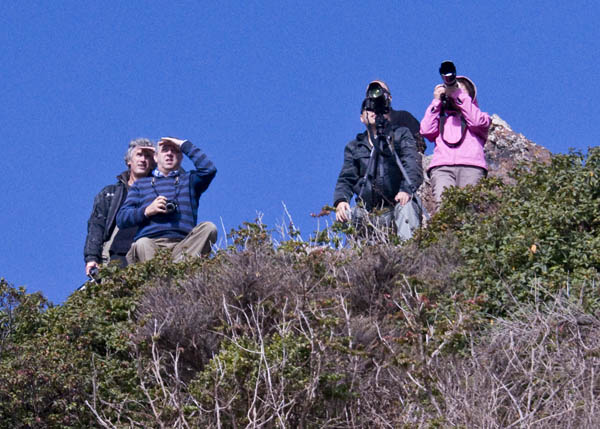 Watchers on top of the Marin Headlands hills were the first to spot Endeavour headed towards the Golden Gate Bridge
After finding a parking space a good mile or so from his destination – one just barely large enough for him to squeeze his Mini Cooper into, he trudged up the Headlands hills to join a massive crowd of shuttle fans.
While Endeavour's flight was not marred by the Golden Gate's usual morning fog, the hazy skies through which it flew inspired one wag in the crowd to rename San Francisco's beloved landmark the "Brownish Gate Bridge".
Splitting the Golden Gate Bridge's two towers, Endeavour says goodbye to "The Cool Grey City of Love" (click to enlarge)
Traffic on said bridge slowed to a crawl as the SCA cut through the haze, flew between its north and south towers, then banked south to perform another flyby over Silicon Valley's Moffett Field, where a reported 20,000 watchers were waiting to give Endeavour one last salute.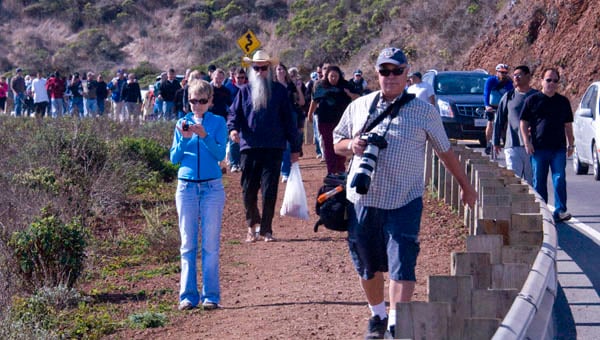 A typical cross-section of Bay Area denizens descends the Marin Headlands hills after the flyby
For this reporter, the flyby was a heartening reminder that many thousands of his fellow San Franciscans were more interested in braving traffic jams and long hikes to bid farewell to Endeavour rather than lining up to buy Apple's latest bit of shiny-shiny.
As one watcher was heard to tell his wife over his mobile phone, "Honey, I just said goodbye to an American icon." ®
All photos by the author