This article is more than 1 year old
LONDON iPHONE 5 MADNESS: 'You must be CRAZY to buy Apple'
High-fiving shoppers spark bewilderment from normal folk
Giggling Apple fanbois queuing for the new iPhone 5 in London gave Apple Store staff high-fives as a man bellowed at them: "Are you mad?!" The bewildering scene marked the start of another Apple iThing launch, and another day of eyebrow-raising antics on the streets of London and beyond.
"Why are you shouting 'iPhone 5 iPhone 5'?" bellowed the man as blue-shirted store workers yelled "iPhone 5! iPhone 5!" while running up and down the line of punters waiting to buy the new iOS 6 smartphone from Apple's Regent Street store.
"Are you mad?" the bloke exploded again at them as they jogged past clapping their hands above their heads and slapping palms with the eager fanbois. "Would you sell the iPhone if you weren't getting paid to do it?" he added.
"Yes," said one store worker. And the hyped up Cupertino cultists continued jogging back and forth, shouting, applauding and high-fiving everyone. (Nobody tell that to John Browett, Apple's new cost-cutting head of retail ops.)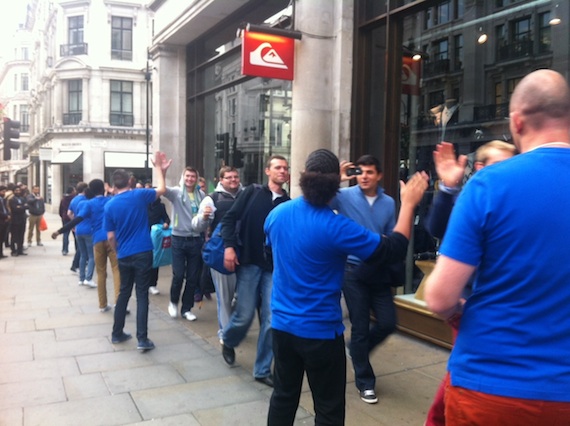 HIGH FIVE! HIGH FIVE!
A protester with a megaphone turned the mood a little sour at the back of the iPhone 5 queue, which curled around Hanover Square in Blighty's capital city, by trolling hundreds of shoppers with an appeal for the factory wage slaves who built the shiny new mobe.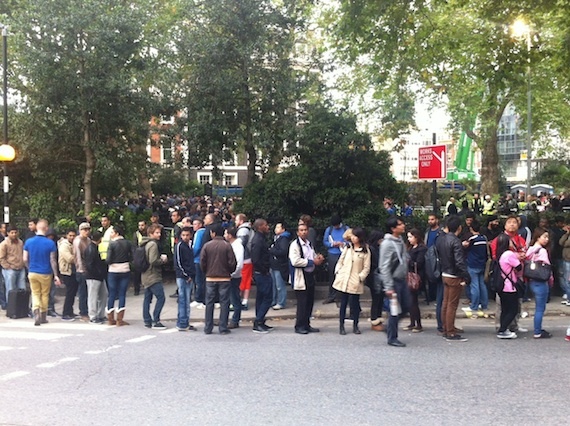 The iPhone queue round the back of the first corner in Regent Street, London
The crowd initially responded to jibes about Samsung from Danny the megaphone man, but the hordes fell silent as he got onto the subjects of Apple's corporate dominance and labour rights and the iPhone supply chain.
"China has a one child policy," he shouted to the crowd, "which is a problem because we need as many Chinese people as possible, to assemble iPhone 5s."
Danny, who runs the Youtube channel Spiritual Entertainer, told us that he liked to address groups of people as part of an art project.
The madness only continued further up.