Australian PM opens SYSADMIN-KILLER data centre
Bit barn pitched as alternative to in-house server rooms
Australia's Prime Minister, Julia Gillard, has opened a data centre in Sydney and proclaimed it is the perfect embodiment of the kind of thing Australia needs to do to create high-value jobs.
But the owner of the centre, business telco and managed services outfit Macquarie Telecom, seems to have other plans for Australian jobs. Managing Director Aidan Tudehope billed the data centre as the perfect place for businesses to relocate their own data centres. "We can power and cool a server more cost effectively than what businesses can do themselves," he said at the launch.
Macquarie Telecoms can do that thanks to a AUD$60m price tag for the new bit barn, a sum that has resulted in a facility with a PUE of 1.3, colossal rainwater tanks, capacity to host eight megawatts of kit and a laundry list of security and uptime certifications designed to attract government business.
In a speech that demonstrated scarcely any understanding of what a data centre is or does, Prime Minister Gillard talked up those qualities and hinted at the centre being the kind of thing the government will consider as it enhances its cloud computing policies.
Macquarie Telecom used interesting language to describe the facility, saying "60 people will work here each day" and qualifying that by saying not all will be its employees, as partners and customers come and go.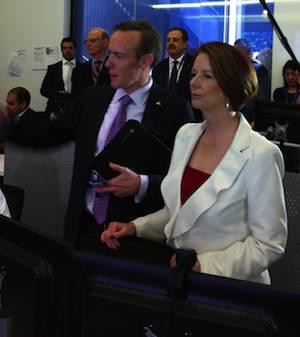 Australian Prime Minister Julia Gillard in the operations centre at Macquarie Telecom's new Intellicentre 2 data centre
Whether than 60 people will be more or less than the sysadmins and other IT pros working on in-house datacentres that will migrate to the new data centre is anyone's guess.®