This article is more than 1 year old
LSI: Flash is just another thing, not a miracle in your pants
Use it where it makes sense, don't get all giddy
LSI will be a major flash player because it's treating flash as just another business extension and not a dramatic, kick-the-bucket, start-over, start-up fantasy.
What LSI, a supplier of silicon to the disk drive, storage and communications markets, has seen is that it can pump flash extensions of its existing products through its existing channel to existing customers as an upsell exercise, and gain new customers as well.
From the storage point of view LSI makes and sells SOCs (systems on chips) to disk drive makers and MegaRAID adapters to system builders. The PCIe-connected MegaRAID cards provide an interface to protected direct-attached storage (DAS) disk drives. Jeff Richardson, EVP and COO for LSI, said LSI has 60 - 70 per cent of the server RAID market.
LSI has two flash product lines:
- SOCs and processors for flash storage card and drive products, SSDs (solid state drives)
- Server flash card products, the Nytro range.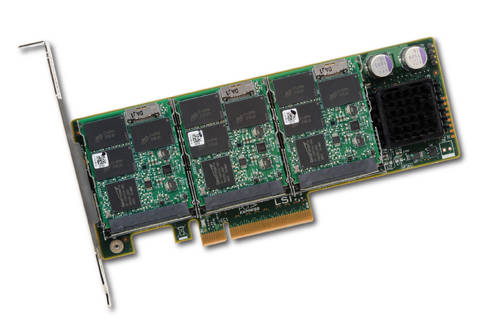 LSI's WarpDrive, the Nytro card predecessor
The flash storage market extends from servers through flash storage arrays to flash added to shared disk drive arrays. LSI is only interested in the server flash market for its flash cards and not in producing flash storage arrays.
It sold its shared disk drive array Engenio business to NetApp and has no intention of re-entering the networked drive array business. For one thing it makes conversations about supplying its components to networked drive array suppliers, such as EMC, much easier as it no longer competes with them.
It is also very interested in the DAS business where its MegaRAID cards play and sees a natural extension of these cards into being flash caches as well. This is similar thinking to that of QLogic which is flash-enhancing its HBAs. Both companies are certified by NetApp to work with its server Flash Accel caching software.
LSI makes Nytro PCI-connected flash cache cards The market for such server-attached flash cards is huge, with probably less than one per cent of the world's servers having flash cache. LSI has picked up a huge OEM design win, being a supplier of Nytro flash cards for EMCs VFCache product along with Micron. These cards will also be used in EMC's coming Project Thunder shared flash cache.
Cisco is also integrating LSI Nytro cards onto its UCS server products.
The Nytro technology is now moving into the RAID adapter area with Nytro MegaRAID cards, which have a high-availability capability, and there is a massive upsell opportunity here for LSI. Richardson says it is a $2 billion opportunity.
He sees three layers of LSI software here:
- Flash die management software carrying out wear-levelling and other low-level functions in Sandforce processors
- Classic device driver software for the MegaRAID and Nytro cards
- SW making the flash transparent to applications.
Richardson wouldn't comment on LSI's flash product roadmap, beyond pointing out a couple of things. First, flash has its problems of diminishing endurance as the process geometry shrinks. This means that replacement technology will come along, with HP's memristor, phase-change memory, ReRAM, and IBM's racetrack - amongst other technologies - having their hats in the ring. LSI will be working hard to ensure its flash processors and SOCs will work with whatever post-NAND technology comes to the fore.
Secondly LSI will evolve its server flash architecture and likely go up the software stack. Currently its server flash cards are caching products. But this is a software definition and, El Reg imagines, new software could turn them into a form of storage memory or make them better support clustered servers. Another avenue of development is to support more than two server nodes in a high-availability scenario; moving into clustering support and shared DAS.
Talking about future developments, Richardson said:
"We're being very disciplined about it," and mentioned "higher-level integration on top of what we do today."
Quadrant magic
Were we to imagine a Gartner PCIe flash card magic quadrant we'd be sure to see LSI featuring in the top right, the one listing vendors with the most complete vision and the highest ability to execute. We'd put Fusion-io in the lead, at the top right of that square, followed by EMC, LSI and then Micron.
In the challengers' square we'd put Intel, OCZ and STEC. The niche players - this is just PCIe flash by the way - would be OWC, SuperTalent, TMS and Violin Memory. In the visionaries square we would assign SanDisk and Virident. But, hey, we're not Gartner, and what do we know about the machinations and calculations going on inside Gartner HQ?
What we do know is that LSI is a solidly successful supplier and it is not stepping out of its comfort zone in developing flash cards. The acquisition of Sandforce has given it a highly successful line of flash storage processors and these parallel its supply of SOCs to hard disk drive vendors. Richardson said the Sandforce business is doing very well and LSI is hiring strongly to support that business. Similarly the flashed RAID cards naturally extend the existing MegaRAID business.
LSI's flash business is being tightly controlled and driven with a clear focus. There is every reason to think that it will continue developing its flash HW and SW products, gain new OEMs and, as customer engagements progress from prototyping, through pilot project to rollouts, LSI will see a steady rise on its flash product-based revenues.
Any concerns? Just one; it has no links with a flash foundry, unlike Violin and SanDisk - both connected with Toshiba - Fusion-io and Samsung, Micron which is its own foundry, and Intel (hooked up with Micron). Recently OCZ had to scale down its expected revenues because of NAND chip supply constraints, which helped cause its CEO to resign.
Richardson said LSI has no NAND chip supply worries, none at all; there is no issue. ®