This article is more than 1 year old
Space shuttle to slip surly bonds of Earth one last time over California
Endeavour heads off on sightseeing tour of California
Retired space shuttle Endeavour is set for a sightseeing tour of California and LA today, in a whistle-stop flyover of the state.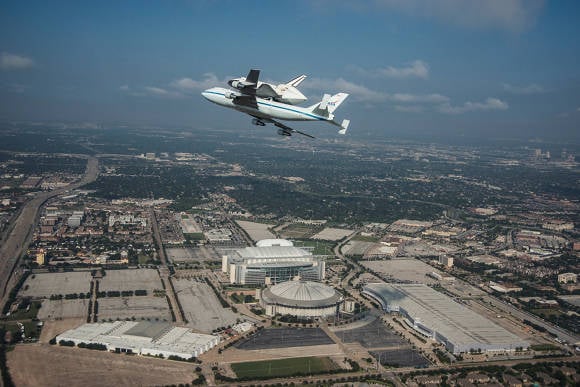 The shuttle, piggybacking on its 747 jumbo-jet, will fly over the north of the state and a large part of the Los Angeles basin, buzzing tourist hotspots like the Golden Gate Bridge, Malibu beach and Disneyland.
In its last ever sortie off the Earth's surface, Endeavour will take off around 8.15am PDT (15.15 BST) from Edwards Air Force Base in the Mojave desert for a four and half hour flight before it retires for good to the California Science Centre.
To give shuttle-spotters on the ground the chance for a close-up of Endeavour, the carrier will dip low over a whole bunch of famous landmarks.
"It's great that the people of California will be able to see this remarkable site. It has great potential to inspire the next generation of explorers and innovators," the science centre said in a canned statement. "The flyover and arrival will truly be a homecoming since Endeavour was constructed in our state."
The shuttle will finish up at Los Angeles International Airport, where it will be unhitched from the carrier plane and spend a few weeks at a United Airlines hangar to get prepped for going on display.
Once the dangerous bits have been taken out and some spit and polish has been applied, Endeavour will do a ground trip through Inglewood and LA city streets, arriving on the evening of October 13 at the centre. ®
Bootnote
Any readers puzzled at the British spelling of Endeavour's name may be interested to know that the shuttle was named after the Royal Navy research ship HMS Endeavour, commanded by Captain Cook on his first great voyage of discovery to the Antipodes.