iLuv Mini Portable

This lightweight pack will go unnoticed in your pocket, but whether it'll be much benefit is questionable. Four blue LEDs indicate the remaining charge but that fourth light doesn't get much action. After charging fully from the mains, the portable battery barely boosted my Razr Maxx at all and depleted unusually fast in comparison to its rivals here.
The iLuv apparently provides an additional six hours of talktime to an iPhone 4, and the company highlights its Apple compatibility all over the packaging. Ironically, it only comes with a micro USB cable for connecting tech, though. Perhaps its ineffectiveness is the reason behind iLuv's decision to drop the price by 60 per cent online. For a tenner it's not that bad a buy.

Reg Rating 50%
Price £25
Capacity 1250mAh
More info iLuv
Innergie Pocketcell

This pack looks like it should be a Nintendo Wii accessory and its small joystick-like shape is great for travelling. The unit has a reassuring weight and a capacity significant enough for a couple of smartphone charges.
A clever, three-in-one cable comes supplied, with USB on one end, and a system that incorporates both mini and micro USB tips, as well as a 30-pin iDevice connector, on the other. Four blue LEDs hidden behind the plastic indicate battery status and there were no heating issues while in use.
In fact, the only downside to this little beauty is the price, which feels far too excessive for a pack of average capacity. There is a definite feel of quality here, though.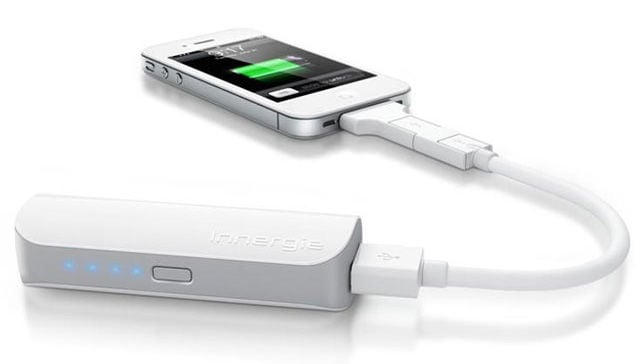 Reg Rating 65%
Price £80
Capacity 3000mAh
More info Innergie