Dell is now shipping an EqualLogic storage blade array, and claiming it is much better than HP's equivalent product.
The idea is to converge blade form factor servers, storage and networking hardware inside a single rackmount enclosure or chassis that can be bought, installed and managed as a single system. This is easier to do than buying, installing and managing the components individually, and makes sense when you're buying lots of the stuff or need a single miniaturised data centre.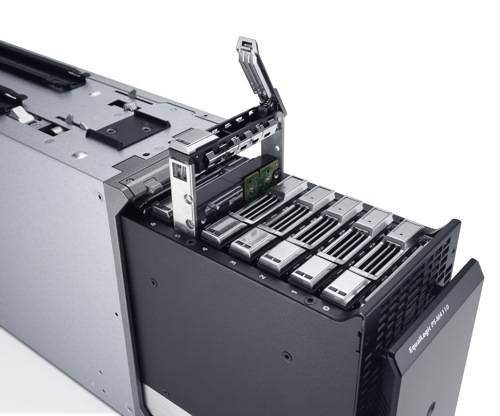 EqualLogic PS-M4110 storage blade array
Dell's M1000e chassis can contain PowerEdge blade servers, Force10 and PowerConnect network gear as well as the EqualLogic storage blades to provide an easy-to-buy, install and operate converged system, a mini datacentre-in-a-box according to Dell.
The EqualLogic PS-M4110 iSCSI blade array can have one or two controllers and up to 14 2.5-inch drives. Maximum capacity is 14TB if you go for 1TB slow drives. The detailed config options are here. There can be up to four storage blade arrays in the chassis and two of them can be in a group. Users can scale capacity outside the chassis linking to other EqualLogic arrays with up to 16 in a SAN group with more than 2PB of capacity.
There is all the usual good EqualLogic iSCSI storage stuff as you would expect.
The perceived competition is the HP StorageWorks D2200sb storage blade and Dell has commissioned a comparison report (pdf) from Principled Technologies that shows its PS-M41100 blade:
- has 55 per cent fewer storage configuration steps
- supports 48 per cent more users
- supports 42 per cent more users per watt
- has up to 96 per cent more usable capacity.
Dell also has a commissioned Forester Consulting report saying users want easier-to-use storage boxes, like this EqualLogic blade thingy.
We can expect more of this blade system idea, with other types of storage blades inside the chassis, and added software capabilities to manage them. ®
Similar topics