Electron microscope photos of an Apple A6 processor lifted out of an iPhone 5 confirm the presence of a dual-core ARM CPU within the system-on-a-chip plus a trio of Imagination Technologues PowerVR graphics cores.
The SoC was pulled from the handset by the team at iFixit.com, and the die extracted from its ceramic package and then photographed by Chipworks.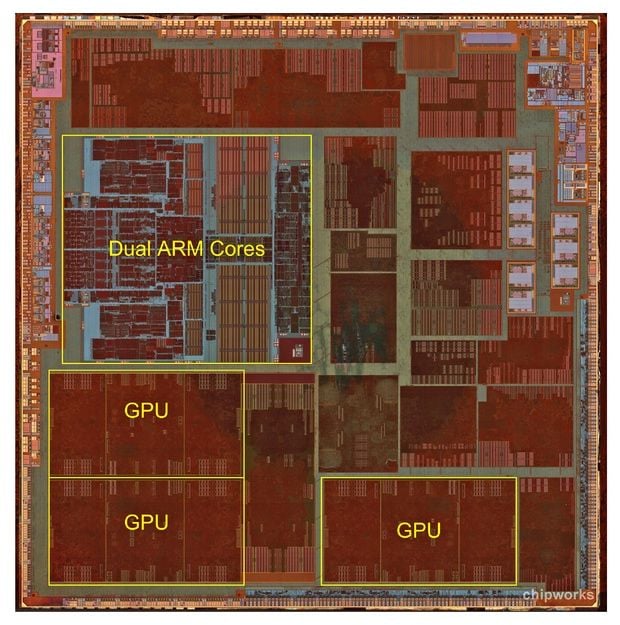 Source: iFixit.com/Chipworks
Close-up snaps of the transistors show the part to be fabbed - by Samsung - on a 32nm process using high-K metal gate technology. The SoC 9.70 x 9.97mm die is labelled 'APL0589B01'.
The CPU element's dual-core design is clear: the top half is the mirror image of the bottom. What's interesting is the seeming lack of efficiency by which the CPU's components have been fitted into that segment of the SoC - and, indeed, the wide spacing of the chip's other components - suggests a 'hand made' quality to the layout.
If Apple has eschewed well-established - and used in pretty much every chip design elsewhere - die layout software tools in favour of a more manual layout, it will have gained a performance advantage at the cost of time and money.
The chip package also contains 1GB of low-power DDR 2 memory made by Elpida. ®
Similar topics