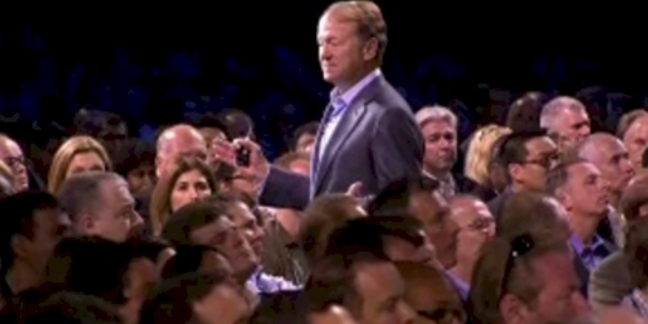 John Chambers has been running networking giant and systems wannabe Cisco Systems for so long that it's hard to remember the vendor existed for seven years before he came on board in 1991 to run worldwide sales and operations after spending a decade and a half at Wang Laboratories and IBM.
But at 63, Chambers has no choice but to think about retirement. At some point. No matter how much it hurts.
Chambers rose up fast through the Cisco ranks and was named CEO in 1995 and chairman in 2006. He was in New York City today for the Clinton Global Initiative's annual meeting, and he gave an interview with Bloomberg BusinessWeek during which he spilled the beans about Cisco's succession plans after hemming and hawing for years about the subject.
"You begin to look at how these transitions occur, and the job of the board and myself is to make sure this next one goes really smooth," Chambers told Bloomberg, adding that he would like to stay on as chairman whenever that day comes.
Considering that it looks like Chambers just blurted out the succession plan, it will be perhaps less smooth than it might otherwise have been.
Chambers said that he would release the CEO reins in the next two to four years, and that there were as many as ten top executives at the company that the board has been considering for the position. And if you are thinking that Gary Moore, currently chief operating officer and a long-time IT exec with a long background at EDS and Hitachi Data Systems, is the man, consider that he is the same age as Chambers and unlikely to get the top post for that very reason.
Cisco's current chairman and CEO didn't name all ten possible candidates, but he did say that Robert Lloyd, executive VP of worldwide operations, Edzard Overbeek, senior VP of global services (who took over for Moore when the latter moved up to COO), and Chuck Robbins, senior VP of the Americas region, were in the hunt for the CEO post. Nick Adamo, senior VP of the service provider segment, was called out for getting cross-trained in managing engineering teams – something Chambers said Cisco would be doing more of, as General Electric, IBM, and other industrial giants have always done – but was not explicitly mentioned as a contender.
It is hard to imagine that Padmasree Warrior, who is chief technology and strategy officer at Cisco, is not a possible future CEO. While she has only been at Cisco for five years, she spent 23 years at Motorola and eventually rose through the ranks to be named the company's CTO in 2003.
Whoever the other contenders are, Chambers has let the cat out of the bag and now all EVPs and SVPs at Cisco are wondering if they are on the short list. If not, and they had aspirations to be, there could be yet another exodus of top people from the company. In a sense, however, this would be nothing new at Cisco. People are coming and going all the time there, excepting Chambers. In fact, some of these executives who might have presumed to run Cisco one day and who left may be called upon to come back and take the reins.
El Reg has contacted Cisco to get a clearer statement about the CEO succession plans and who the ten potential candidates are. But we don't expect much in the way of clarification, since it looks like Chambers was speaking off the cuff and Cisco very likely will just want to let this story die.
Bootnote: In the wee hours of the next day, Cisco did give us this statement: "Last year, John Chambers said he would stay as CEO for another 3 to 5 years, assuming the board, shareholders and employees want him to continue in that capacity. He reiterated that timeline a year later, saying he would serve as CEO for 2 to 4 more years. Additionally, as you would expect there are a number of potential CEO candidates within the company." ®
Sponsored: Webcast: Simplify data protection on AWS