RackWare uncloaks self, unveils cloudy control freakery
Getting physical as well as virtual
The market for tools to manage virtual servers and the clouds they underpin is crowded, and it just got a little more so now that startup RackWare has uncloaked with its RackWare Management Module (RMM) tool and elbowed its way into the game.
RackWare, which was founded in 2009 with funding from unnamed angel investors, originally started out with a slightly less expansive goal. LSI Logic's Engenio storage business unit was a strategic partner, according to Sash Sunkara, cofounder of RackWare, and wanted to add management intelligence to its low-end storage arrays.
In 2011, RackWare and LSI went their separate ways, and RackWare took on the broader task of managing physical and virtual servers in data centers as well as virty infrastructure in public clouds such as Amazon's EC2.
The uncloaking of the company comes simultaneous with the launch of its RMM 2.0 release. RMM 1.0 was completed last year, and the company has a number of proofs-of-concept with a half-dozen customers, and is generating revenue from it already. The goal with RMM 2.0 is not only to create an über-controller that lets companies whip internal physical servers and clouds into shape, but also to use a single tool to manage capacity and application onboarding to use that capacity in public clouds.
Sunkara is no stranger to the systems racket, and was one of the cofounders of 3Leaf Systems, an upstart high-end Opteron server maker that came out of stealth in May 2007 with a virtual storage controller and two years later announced the "Aqua" chipset for virtualizing CPUs, memory, and I/O in 16-socket Opteron-based NUMA machine. LSI designed some parts of the Aqua chipset and kicked in more than half of the $67.5m that 3Leaf raised trying to get to market. The goal was to push up to 32 sockets and up to 64TB of shared memory across the nodes, allowing for the creation of virtual SMPs on the fly inside the box – but 3Leaf never got fully off the ground.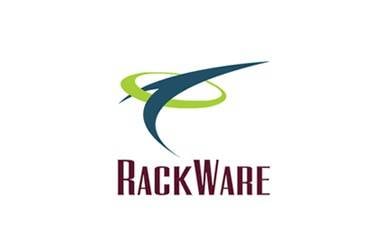 More recently, Sunkara was VP of marketing at QLogic's Network Solutions Division in charge of switches (some of which are now owned by Intel), and did a stint a Brocade Communications managing its strategies and roadmaps; before that she was at HP developing switches and routers.
Her partner at RackWare is Todd Matters, a networking guru at Unisys and IBM who worked on their respective mainframe platforms, and who went on to found SilverStream, a maker of virtualized Ethernet and Fibre Channel adapters and network fabric control software that was eventually acquired by QLogic.
Between the two of them, Sunkara and Matters get virtualized CPUs, memory, and I/O and control software to make it all fluid. And that is precisely what cloud control freaks like RMM are all about.
Just controlling physical and virtual infrastructure and cloud capacity is not sufficient, says Sunkara. The management tools have to have a certain amount of intelligence to automatically scale capacity up and down (including having the smarts to power down physical servers and fire them back up again when needed), and make sure an application is deployed to the right amount of capacity at the right time based on all of the other workloads going on across the private and public clouds and physical servers.
"We see customers with 6,000 to 10,000 applications that haven't even virtualized servers yet," Sunkara tells El Reg. "They don't even know how to start. Some customers have Amazon, Azure, and Rackspace capacity and they want to be able to bring it all together. We're not building a cloud stack, but the tools to leverage clouds and do so in a cost-effective manner."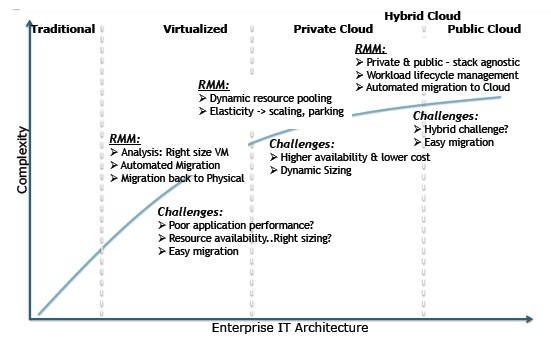 RackWare spans from physical servers to public clouds
Just like poor server utilization drove the market for server virtualization, poor cloud utilization is going to drive the market for cloud control software, says Matters. Customers want a factor of three to four times better utilization on their cloudy infrastructure than they are currently getting, he adds. That sounds like a tall order, but one that will be necessary to get mainframe-class utilization on distributed systems.
The RMM 2.0 tool runs on x86 machines sporting either the Linux or Windows operating system in bare-metal mode, and it can also provision a bare-metal server or a hypervisor and then virtual machines to run on top of that hypervisor.
The tool can also discover and monitor RISC/Unix and other types of systems, according to Matters, but it cannot control them. RMM 2.0 can also hook into the latest x86-based hypervisors, including XenServer 5.6 from Citrix Systems, KVM/RHEV 3.0 from Red Hat, Hyper-V 2008 R2 from Microsoft, and ESXi 5.0 from VMware. (The Oracle VM variant of Xen is not yet supported.)
If you're running your own cloud controller on your own private cloud, the open source OpenStack and CloudStack controllers can be convinced to take orders from RMM, as can VMware's vCloud Director. On the public cloud side, Amazon EC2, IBM SmartCloud, and Savvis Symphony public clouds are supported, with the HP Cloud and Microsoft Azure in the works and Rackspace Cloud on the roadmap.
One of the key features of RMM is that it has a policy engine that can reach into all of this infrastructure and automagically scale capacity up and down, and can even "park" resources in a low-power or no-power state that is initiated based on current and expected capacity demands across the infrastructure.
RMM also knows how to take a snapshot of running applications, create an image of that snapshot, and then onboard it (in the cloud lingo) to a private or public cloud. El Reg suspects that this is a lot harder than RackWare makes it sound, particularly for multi-tier applications. This onboard feature knows how to move apps from a data center out to a cloud, across clouds, or back down to the data center as need be, according to RackWare.
You will no doubt want to be skeptical about such claims, but you can also request a demo and find out for yourself.
The RMM software is licensed based on the number of images or workloads that it is managing, and the level of functionality you desire. A perpetual license to the basic feature set that does application onboarding costs $150 per image under management, according to Sunkara, with a richer version of the tool with autoscaling costing $450 per license. The full-on RMM 2.0, with disaster recovery, cloudbursting, and reporting features, will run you $700 per image. The software will also be available on an annual subscription basis, but pricing for this was not available as El Reg went to press. ®