Unfortunately, the day The Reg landed in town, the locals decided to march down Huaqiagbei carrying anti-Japanese slogans and provoke the seriously armed police force into some fisticuffs, so most of the stores were closed up.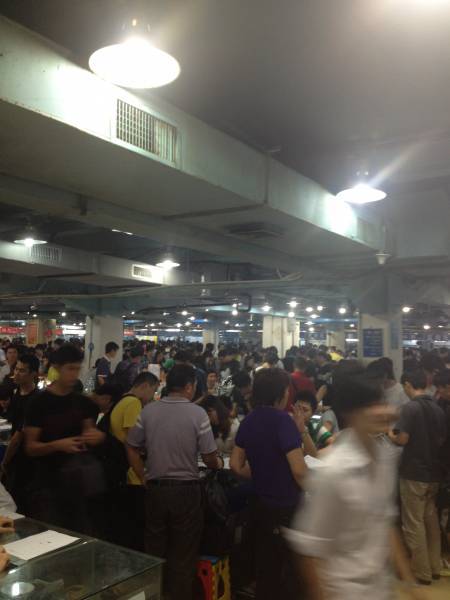 On the wholesale floor it's hard to move, or breathe
We'll be back though – there is enough here to keep electronics fans here happy for a long time.
"Shenzhen and the surrounding area have built up an almost complete IT supply chain," said Forrester analyst Bryan Wang.
"It would be probably the most complete outside Taiwan's Hsinchu area. The region manufactures almost every component except for chipsets (which are made mostly in Taiwan/Shanghai/Korea/etc.) and LCD screens (Taiwan/Korea/Japan)."
What next for the PRD?
So will Shenzhen and the PRD continue to go from strength to strength, or eventually get left behind as a shadow of its former self a la Akihabara?
Already the big name ODMs are building plants in other parts of China, encouraged by generous subsidies and lower labour costs, while Foxconn is even investing overseas with a giant plant planned in Indonesia.
"Over the years, Shenzhen ranked No.1 among all cities in China in terms of total high-tech industry output value (over RMB 1.18 trillion in 2011)," said Peng Zhai.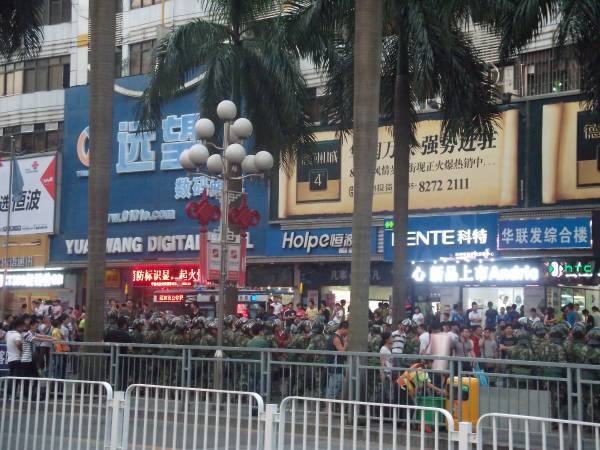 Outside of Yuanwang, complete with riot police
"However, the development of the high-tech industry in Shenzhen is challenged, as most high-tech enterprises are export oriented, there is weak fundamental research capability (i.e. universities), as well as a rising labour costs and living expenses."