This article is more than 1 year old
What does Steve Wozniak do at Fusion-IO?
Reg hack bemused by Woz at down under appearance
What does Woz do?
At the event, Fusion-IO Director of Communications Shannon McPhee told us Wozniak has offices in the company's California and Utah offices, does not keep regular hours and is valued for the "vision" he brings to the company.
We asked further questions by email, starting with a request for detailed information in how much time Wozniak spends with the company. The response follows:
Woz gets together with the rest of our executive team on a regular basis. Since his friend Steve Jobs' tragic illness and passing, Woz has been increasingly busy giving keynotes around the world and representing Fusion-io's interests. He is primarily out on the road these days and we appreciate the support he brings in the field.
We next asked how Wozniak contributes to Fusion-IO's product development, as we imagine that donning a lab coat and standing in front of a whiteboard is the kind of thing a Chief Scientist does from time to time on top of all that field support. The answer was:
Woz is a visionary and leader who shares our belief that software defined solutions are crucial to simplifying complexity, and his discussions with our team have had an impact on our core architecture. Woz also helps showcase the disruptive potential of our products as we accelerate applications through an entirely new approach in the data center. He has been through disruption and rapid growth before, and shares his unique experience with our team.
We asked for an example of how Wozniak has contributed to a product, but no answer was forthcoming.
A further question we posed asked how Wozniak works with Fusion-IO Chief Technology Officer Neil Carson, as again we felt it was natural for a Chief Scientist and CTO to work together. The answer was:
Woz's role is not just about the technology, but also his experience in going through the process. It's like having a tour guide – it makes it much easier to climb Mt. Everest when you are with someone who has been there before to help you navigate what to expect. This invaluable knowledge is why Woz reports to our CEO, David Flynn.
That invaluable knowledge may also account for why an unusual number of press showed up to hear a minor storage vendor recite its value proposition without offering any news. It may also explain why customers did the same later in the day.
We're not entirely sure, however, that it explains just how Wozniak the Chief Scientist contributes to Fusion-IO's products, other than to make more people interested in hearing about them.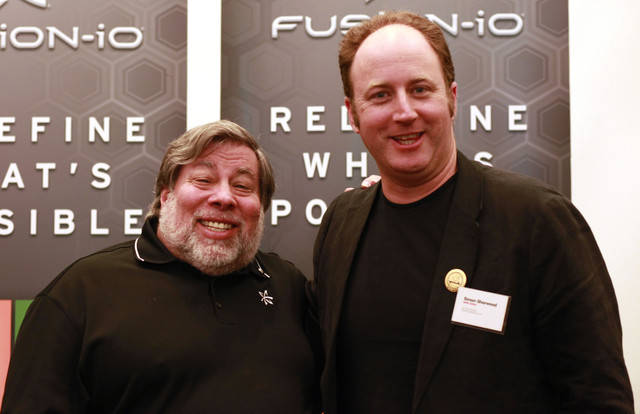 None of which stopped your correspondent lining up for the grip 'n' grin at right. My kids, at least, think it's cool I've met the guy "who invented Apple". ®
Bootnote
One of the reasons for Wozniak's antipodean appearance is his impending application for citizenship of Australia. Wozniak has told media of his love for Australia and, as he can maintain dual citizenship with his native USA, he intends to apply to become an Australian. He even queued at a suburban Apple store last week to buy his new iPhone.