Over the next five days, the Mountain View Chocolate Factory will offer a series of discounts on products and applications in its Google Play store to celebrate hitting the 25 billion–downloads mark.
"Every day you'll be able to choose from a collection of apps from some of the world's top developers including Gameloft, Electronic Arts, Rovio, runtastic, Full Fat and more. And all for just 25 cents," said Jamie Rosenberg, director of Android digital content.
"We'll also be offering some special collections like 25 movies you must own, 25 banned books, 25 albums that changed the world and our 25 top selling magazines, all at special prices," he said.
Rosenberg then goes on to beat his chest about just what a massive number 25 billion is – equivalent to the number of minutes since humans first entered Europe (although historians still haven't actually sorted that one out quite yet) or twice the distance in miles Voyager 1 has reached beyond Earth, and so on.
But if he was looking for ideas on that front, maybe he should have asked his counterpart at Apple, since Cupertino's App Store hit the 25 billion–downloads mark back in March.
Nevertheless, it's quite an impressive increase for Google Play, the app store formerly known as the Android Market. In March the company said it had had 13 billion downloads, and if current projections bear out, the 50 billion mark should be hit early next year.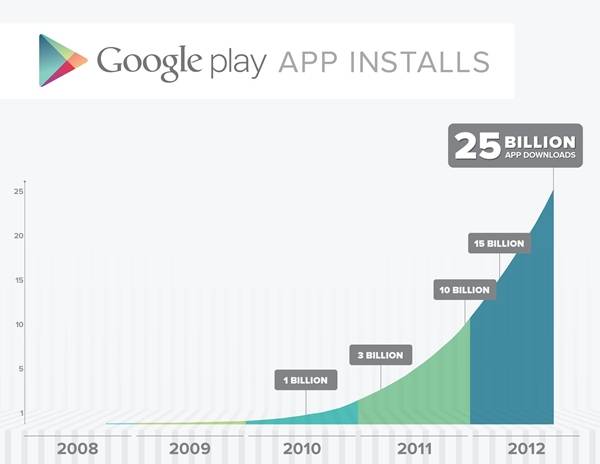 Google's apptastic stats show a healthy growth curve
The Play Store now has 675,000 applications and games available, which is within spitting distance of the 700,000 applications Apple claimed earlier this month. Apple does have the edge on media, however, stocking over 26 million songs, 190,000 TV episodes, and over 45,000 films.
Apple also has the edge on tablet applications, it seems. Data released earlier this month shows that only 4.7 per cent of Android apps were downloaded by tablet users, and with Apple still dominating the fondleslab market its percentage is much higher – and Cupertino's injunction against Samsung's tablets can only reinforce this. ®