HDS's young HUS array gets BIG new brother
HUS VM - not actually a VM. Ha!
---
HDS has merged its high-end array code with its low-end HUS hardware. The unified file, block and object storage HUS 100 array is barely two months old and now has a larger brother.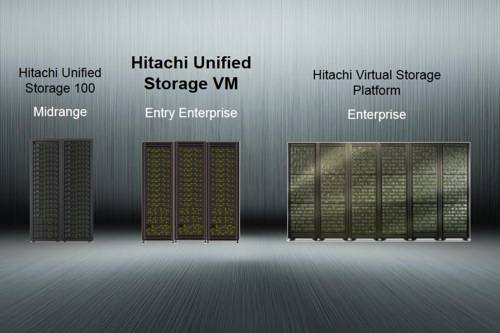 The HUS VM is the enterprise version of HUS, and combines microcode from HDS's enterprise VSP array with the HUS hardware platform to create a 3-way unified storage array which can also virtualise other HDS and third-party arrays, and is unique in this respect. It also comes with a 100 per cent guarantee of data availability. HUS VM is a physical machine, as the picture shows, and not a virtual machine (VM) or Virtual Storage Appliance (VSA).
It has been designed to fit the needs of small and medium enterprises with between 1,000 and 2,000 users. The HUS 100 provides 3-way unified storage below it while the VSP provides virtualised storage, presenting a virtual storage pool composed of its own and connected 3rd party arrays, but not unified storage above it.
HUS VM – by virtualising its own and third party arrays – can present up to 64PB of data. HDS claims HUS VM's "highest-in-class single home directory size manages more files and folders than competitive offerings. … [Its] largest-in-class volumes decrease the time needed to manage growth of large file systems and millions of files."
The user access routes are NFS, SMB, Fibre Channel and iSCSI.
HDS claims HUS VM enables enabling 90 per cent faster data migration from one array to another, and 30 per cent better total cost of ownership (TCO) compared to non-virtualised systems – such as, presumably, the HUS 100. It also says HUS VM "requires 40 per cent less power to operate and cool. Using publicly available product specifications and the same cost of power and space for equivalent capacities, the monthly operating cost of an EMC VMAX 10K is $9,820; HUS VM is 40 per cent less at $5,890."
HDS also compared its new gear with IBM products, claiming it has twice the virtual capacity of the Storwize V7000 and is six times more scalable than the XIV array.
HUS VM and its file, block and object storage resources are managed by HDS's Command Suite 7 software. There are VMware, Microsoft and Oracle integration adapters and application adapters to enable backup, recovery and data protection from the primary management framework. HDS provides VMware, VDI, SAP and Oracle reference architectures and best practices.
What HDS has done – adding high-end array code to a low-end array architecture – appears to be unique. If EMC were to do the same it would be akin to running VMAX code on the VNX hardware platform.
HDS's unified storage is different from NetApp's in that it offers object access on top of the file and block access, which NetApp's ONTAP offers. HDS says HUS is simpler to manage than having separate object, file and block storage systems. It claims the HUS VM brings much greater capacity-efficiency across storage asset for target small and medium enterprises. Will we see object storage added to VSP? HDS isn't saying. It does say "HUS VM supports solid state drive options now, and will extend the recently announced HDS flash strategy with integrated flash devices based on the new Hitachi flash memory controller unveiled in August."
HUS VM is available now and a starting price indication is $156,000 for a system with no storage. ®