Astroboffins have spotted a new comet that's scheduled to make its earthly appearance in November 2013, blazing through the night skies with a brightness that could well outshine the full Moon.
According to the UK's Astronomy Now, the prosaically named comet C/2012 S1 was discovered last Friday by astronomers Vitali Nevski and Artyom Novichonok of the International Scientific Optical Network (ISON).
Due to C/2012 S1's near-parabolic path, there's a sporting chance that it might be arriving for its first sun-slinging visit directly from the solar system–enveloping, spherical Oort cloud, and thus would be fresh and chockfull of ablating goodness that would make for a spectacular show – so spectacular that it may achieve a brightness of an apparent magnitude of -16, which would greatly outshine the brightest Moon.
Or not. A comet's brightness is challenging to predict, as evidenced by the feeble appearance of Comet Kohoutek in 1973, which some had predicted to be "The Comet of the Century" due in part to the belief that it also was making its first visit to the solar system from the Oort cloud.
Didn't happen. Kohoutek was rather a bust, achieving an apparent magnitude of only -3. To be fair to that spacefaring visitor, that level of brightness made it visible to the unaided eye, but hardly caused the sensation of Halley's Comet in 1066, which rather depressed King Harold before the Battle of Hastings.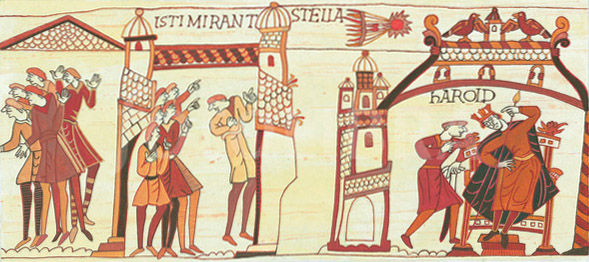 We may scoff at Harold's fear of Halley's Comet, but had it appeared before a US election, surely some would read it as an omen
Don't blame Kohoutek though, blame those optimistic scientists, many of whom later decided that the Oort-cloud provenance was incorrect, and that the disappointing comet was merely a rocky visitor from the Asteroid belt's bigger brother, the disc-like Kuiper belt, which hugs the solar system much more tightly than does the Oort cloud, and which is also home to that planetary has-been, Pluto.
It's a bit early to tell if C/2012 S1 will dazzle or disappoint when it makes its swing by the sun, which Space.com has scheduled for November 28, 2013. At that point, the interloper will be a mere 800,000 miles from the sun, and if it contains sufficient ablatable materials, it might put on a magnificent show, indeed.
Or not. ®