Toshiba has produced its own hybrid drive, following Seagate's lead and WD's stated intention.
A hybrid disk drive adds a flash memory cache for hot data to the spinning platters to provide a combination of speeded-up IO and disk capacity that's not as fast as a solid state drive (SSD) but a lot cheaper. The drives look to be a good fit with ultrabooks and tablet computers where thin dimensions, low battery power draw and a good capacity level are needed. Seagate has been mining this seam with its 2.5-inch Momentus XT, now in its third generation
Toshiba demonstrated a 1TB hybrid drive in August and has now announced its MQ01ABD-H drive with 750GB and 1TB capacity points and a 6Gbit/s SATA interface. It is 9.5mm thick and spins at 5,400rpm and has an 8MB flash cache. A self-learning algorithm populates this with high-access rate data. That should result in faster startup, application and data file load times.
Seagate's Momentus XT also has 8GB of flash, maxes out at 750GB, 250MB less than the Toshiba drive, but spins at 7,200rpm. We expect a terabyte model and a 500GB single platter Momentus Thin XT pretty soon.
Toshiba says its new drive will appear in notebook PCS and be available in them before the end of the year.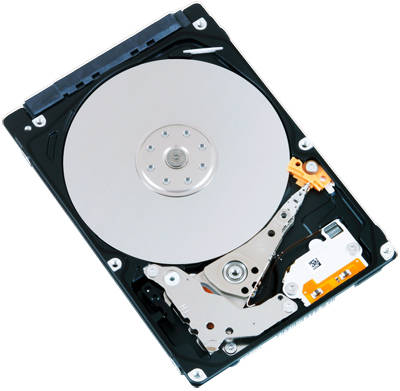 That means that we have a clean sweep of disk drive manufacturers producing hybrid drives and we can expect the technology to spread further throughout each manufacturer's range. Who would not like a faster-responding disk drive? ®