Two years ago Apple got really serious about thin and light laptops - and did something really quite important. It replaced its original Air model – that was by then almost three years old – with two new designs. The first Air had been widely perceived to be an expensive novelty, over-priced and under-powered, and it didn't look likely to change the industry.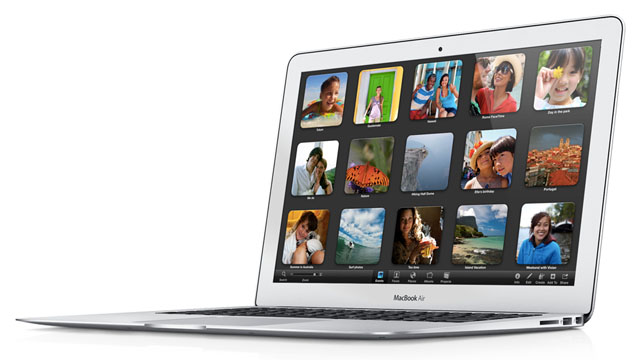 Ivy Bridge on board: Apple's MacBook Air 13in
But the revamp changed all that.
Previously, sub–3lb notebooks – that you could comfortably pick up with one hand – had been seriously compromised. For years, laptops in this category used 11in or 12in displays with XGA resolution (1024 x 768) or, in the case of netbooks, something even lower. Think of the Thinkpad X series – say, this one from 2004. And you'd be hard pressed to squeeze more than two hours out of the meagre battery.
However, if you wanted to do some serious work – software development in a modern an IDE, a professional app such as Pro Tools, or a large Excel spreadsheet – you needed the largest display possible: at least 1400 pixels wide. There were plenty of models offering such generous real estate, but these monsters weighed in at 5lb or more typically, 6lb.
The 13 inch Air was the first Mac to be both seriously portable, at under 3lbs, and offer a decent display featuring a 1440 x 900 resolution. It vindicates Apple's strategy of tinkering away at the margins, perfecting the design, until the price of components comes down enough for it to strike at a much bigger market. The iPod, we tend to forget, was one of these experiments. When it launched in the UK, it didn't leave you much change from £600. The Apple TV might be another.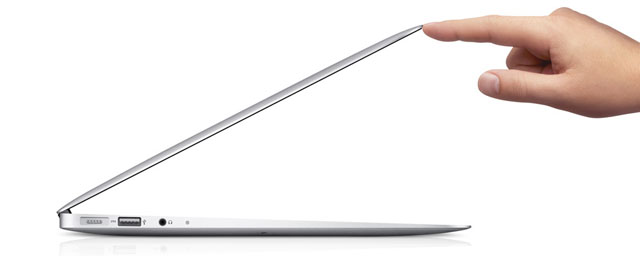 USB 3.0 at last
So why tell you something that's ancient news? Because the 13in Air's combination of one-handed pickup and decent screen size is still the singular characteristic of the MacBook Air 13, and it's what makes it, perhaps, the nicest I've ever used. For years my main laptop was a 15.4 inch PowerBook or MacBook Pro - tipping the scale at close to 6lbs. Now you can have the performance and generous screen in something much more convenient. And what ever else you take away from this review - it's this miraculous combination of screen and weight that overshadows every other aspect of the machine.
Being fussy, it's not perfect, and I'll come to the drawbacks in a moment.
Similar topics