'Seagate's OCZ gobble was real, but went sour in CEO row'
Insiders claim former top dog Petersen wanted more control
---
Juicy scuttlebutt from storage insiders suggests the Seagate acquisition of OCZ fell through because the larger firm refused to give OCZ's CEO Ryan Petersen a seat on its board. According to our sources, this, in combination with flash NAND shortages at OCZ, led to Petersen's eventual resignation.
Petersen founded and ran OCZ, one of the nimblest and most aggressive flash SSD and PCIe card product suppliers in the game. It had a fast-expanding product range, featuring both consumer and enterprise products, and bought fabless IndiLinx so it could own its own controller technology. But what OCZ didn't have was a relationship with a flash foundry supplier to assure it of predictable NAND chip supply. This proved to be a decisive flaw in its strategy.
As customers perceived the advantages of faster data access leading to faster app execution in servers, flash storage product supply soon became a priority for storage product suppliers such as EMC, NetApp and so forth. It became a priority also for the disk drive suppliers Seagate and Western Digital to protect their businesses against the flash incursion – by getting their own flash product capability.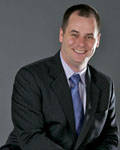 Ryan Petersen
Western Digital bought Hitachi GST and got a leg up with that company's Intel-based SSDs, leaving Seagate with a problem. So Seagate and OCZ started talking. OCZ needed a stronger, well-funded partner that could give it more enterprise credibility and the basic fit looked good. According to our sources, the was worked on and was almost done on the financial side, but – insiders say – Petersen apparently wanted a seat on Seagate's board. Allegedly this wasn't acceptable to Seagate but according to our sources, Petersen held out for it.
And, of course, OCZ didn't manage to bag sufficient NAND flash components to convert its SSDs into the mega-sellers they should have been: it hadn't any flash fab tie-ups and had to buy chips on the open market, resulting in a near $20m revenue miss in the quarter. Soon after, Petersen had to leave OCZ.
Now OCZ has an interim CEO, chief marketing officer Alex Mei, and its stock is getting killed with investors, who anticipate a lousy quarterly report in a couple of weeks time.
The Register asked OCZ and Seagate for comment. Seagate's spokesperson said: "Our company policy is that we do not comment on market rumours." OCZ did not respond in time for publication. ®