AMD has launched a new web portal designed to connect users with applications and games to run on their AMD-powered Windows PCs – including some 675,000 Android apps, thanks to a partnership with virty Android vendor BlueStacks.
Announced on Thursday, AMD AppZone is a showcase for software that has been optimized for AMD Radeon graphics and AMD accelerated processing units (APUs).
Most of the software listings are simply hotlinks, rather than direct downloads. Click on Photoshop CS6, for example, and you're redirected to Adobe's product page. But click on any of a few dozen Android apps featured on the site and you'll be sent a Windows installer package that bundles the app plus AMD's version of the BlueStacks player software.
First announced in 2011, BlueStacks works by creating a virtualized Android device that runs on the Windows desktop. Users can download, install, and run apps inside a BlueStacks window just as they would on an Android phone or tablet. The software even includes hardware emulation technology, called LayerCake, that allows apps compiled for the ARM architecture to run on x86 CPUs.
AMD says its version of the BlueStacks player has been spruced up with OpenGL hardware acceleration for AMD chips, which allows apps designed for small-screen devices to look better and run more smoothly on full-sized PC monitors, although it will still run on PCs without AMD hardware.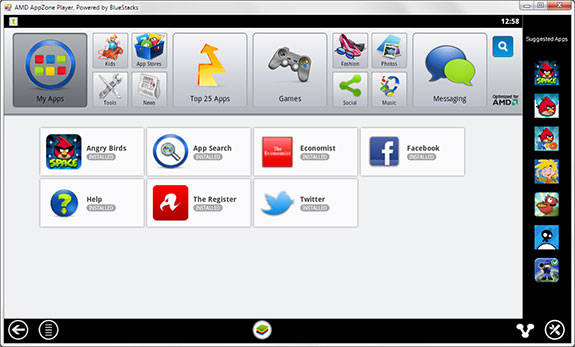 AMD AppZone Player uses BlueStacks tech to run Android apps on Windows
AMD AppZone and the BlueStacks launcher menu both highlight small collections of apps that are known to work well with the software, but users are free to search for and download any apps they choose. BlueStacks is integrated with several Android app stores – including 1Mobile Market, Amazon Appstore, GetJar, and Google Play – and users can purchase paid apps if they have an account with one of those stores.
BlueStacks also includes a feature called Cloud Connect that can sync apps between the Windows client and a user's dedicated Android devices.
That said, the technology does have a few limitations. First, BlueStacks is currently based on Android 2.3 "Gingerbread." That means it's compatible with the majority of today's apps, but some apps may not have all of the features they offer when running on newer versions of Android, and some won't run at all.
Second, BlueStacks doesn't emulate every feature of an Android device. A lot of system-configuration settings are missing, for example, and there is no home screen for widgets or custom launchers. Apps that take advantage of hardware-specific features – such as phone dialing and SMS, GPS positioning, or sensors – aren't much use with BlueStacks, either.
Finally, like most emulators, BlueStacks can't run everything. In your Reg hack's highly unscientific tests of leading enterprise Android apps, Roxio's Angry Birds Space seemed to work fine, but Bad Piggies loaded incredibly slowly and behaved strangely before eventually crashing.
To be fair, BlueStacks' own site lists the player as still in beta (and a version for OS X is only in alpha). 
It apparently works well enough for AMD, though. According to its press release announcing AppZone, AMD is not only making the BlueStacks-based AppZone Player available for download, but it also plans to work with hardware OEMs to preload it on upcoming AMD-based devices, although no timeframe was specified. ®