Vote now for the ultimate bacon sandwich
The moment of porcine truth has arrived...
---
The Trearddur Bay Black Ops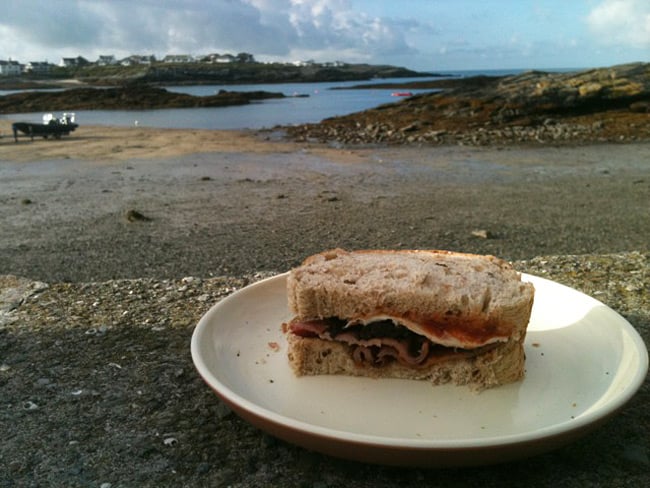 Matt Hamilton recorded the delightful scene above in Trearddur Bay, North Wales, last year, and describes his entry as "a combination of culinary excellence and an amazing view".
Agreed about the vista, but we wonder if readers will concur that bacon sarnie excellence involves the addition of fried egg and black pudding?
The Black, Brown and White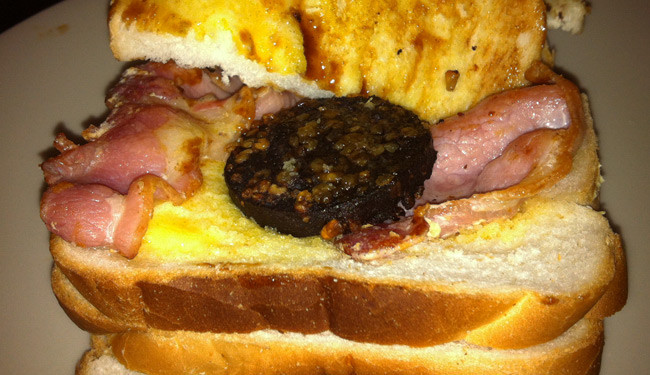 David Nicholls certainly agreed, because he served up "white bread, butter (not too much, but not too little either,) smoked back bacon (gotta be smoked!), lots of brown sauce and a slice of Lidl black pudding!"
The Sunday Special
Mercifully, we can now take a brief breather from eggs, if only to contemplate sacred bacon smothered in melted cheese.
Richard Bedford told us he makes the above "on a Sunday morning for brunch when I visit my mum".
Ingredients:
White, soft buns/baps
Finest unsmoked back bacon
Butter (has to be!)
Full-fat, extra mature cheddar cheese (optional)
Optional: brown sauce, tomato ketchup.
"Bacon is grilled on both sides until the fat is just starting to crisp up, and then sliced cheese (optional) is placed on one side and then returned to the grill to ensure it melts.
"Whole lot is placed in a buttered bap and then presented to the recipient in an open state so that they can add their preferred amount of ketchup. I personally add both brown sauce (HP) and ketchup in equal amounts, but I am unique with that combination."
For the record, Richard favours coffee with his bap, although his mum opts for tea.
The Cheesy Canadian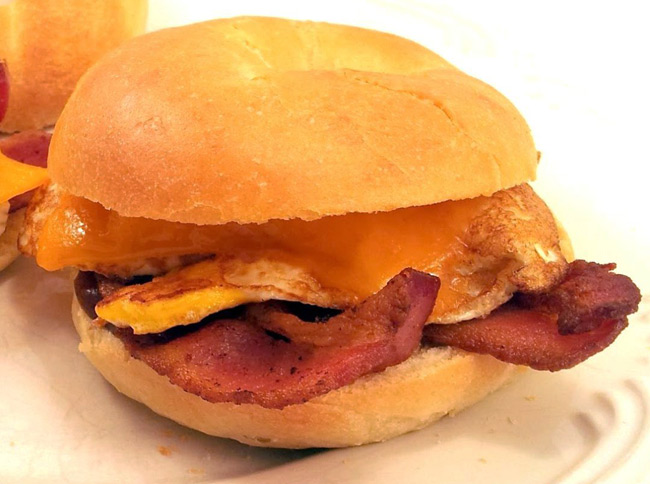 Canadian Daniel Saraga likes a bit of melted cheddar too, albeit on a bagel and with, yes, an egg. Dan said of the condiment: "It must be brown sauce, and it must be HP's brown sauce in particular." Good show.
The Brit Bagel Butty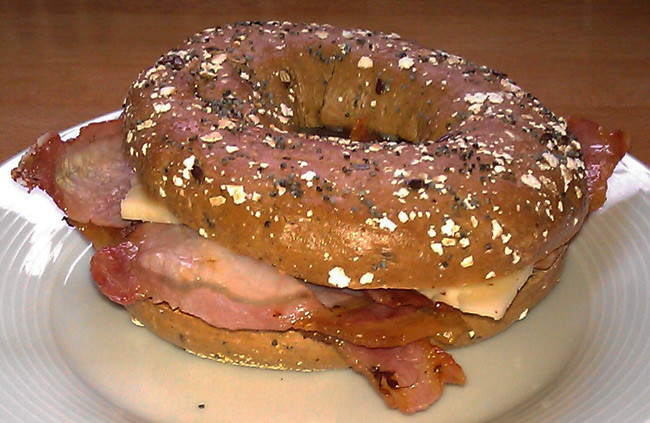 Tim Wolfe-Barry looked to be on the right track when he ditched the egg, but then strayed into dangerous territory when he slapped thin-sliced, crispy grilled unsmoked back bacon into "a multi-grain bagel with Heinz ketchup and mature cheddar cheese".
The Cheezilla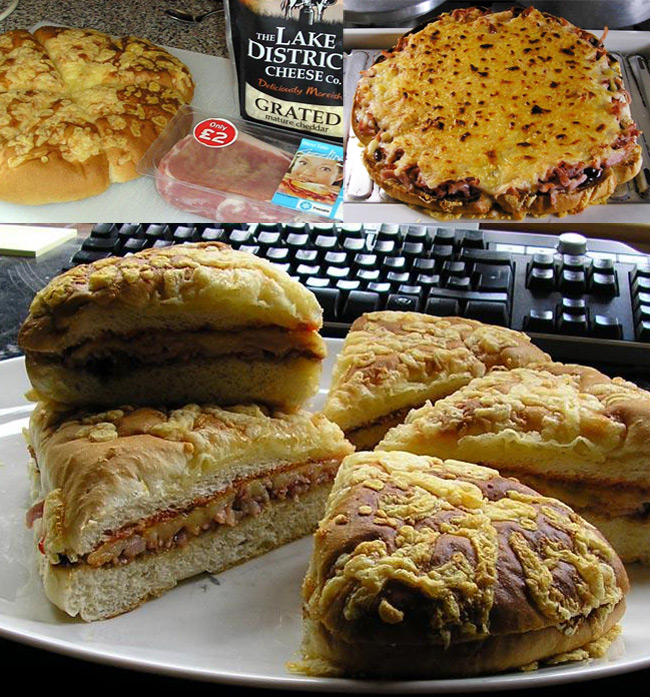 Did we mention cheese? Step forward John Rennie:
Step 1 - The ingredients: One Tesco's cheese windmill load, one large pack of bacon and 200g grated mature cheddar cheese. Sauces of your choice; I use pickle on one side of the load and tomato ketchup on the other.
Step 2 - Preparation: Cut the bacon into as thin shreds as you can manage then fry till crisp. Slice the loaf in two, spread pickle on the bottom half, then cover with bacon then cheese. Grill until the cheese is well browned. Spread tomato ketchup on the top half then assemble loaf.
Step 3 - The eating: Cut into wedges. Scoff while sitting at your desk reading The Register (of course!).
Of course. Those of you who are beginning, despite the stiff brandy, to feel the urge to write a strongly-worded letter to the Times should probably not proceed to the next page, where pork and exotic foodstuffs meet in unholy, and quite possibly illegal, union...