Vote now for the ultimate bacon sandwich
The moment of porcine truth has arrived...
---
Attack Of The Killer Tomato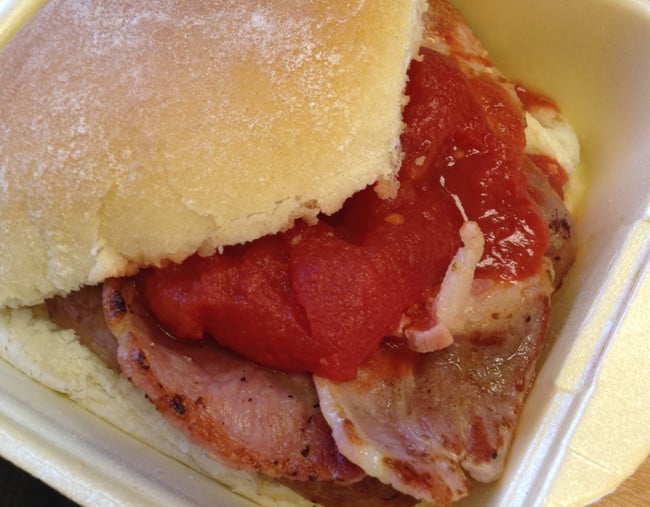 Carl Garner listed his essential ingredients as follows. We make no comment:
A fresh white roll, not too floury
No butter, absolutely not!
Two Lincolnshire sausages cut in half at the bottom
Two, or three if hungry, pieces of unsmoked back bacon
Squashed plum tomato (to remove excess juice)
The Guacamole Goulash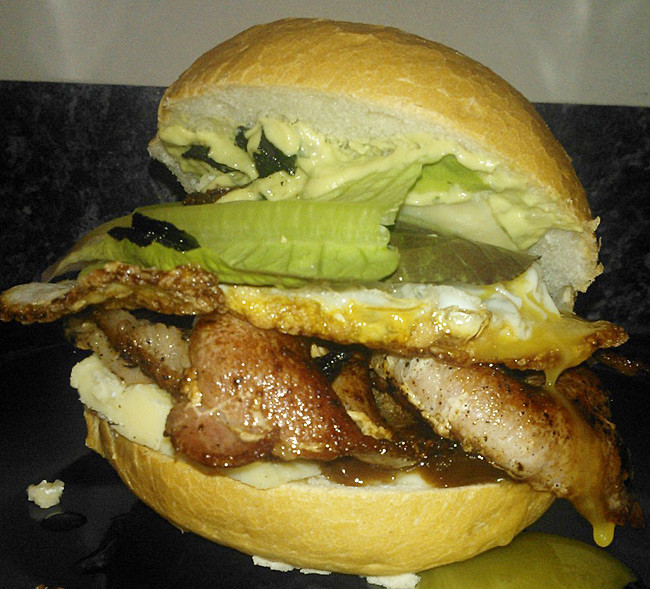 Alex Boardman is certainly risking a couple of hours in the Reg reader stocks for his effort - the only entry to contain that leafy green stuff which, although bought with best intentions, invariably goes rotten in the fridge. Here's the low-down:
White Crusty bap
Guacamole
Fried Egg
HP sauce (not just brown sauce)
Stinky cheese
Lashings of Lurpak (if you're afraid of the extra salt a bacon buttie isn't for you)
And to make it a "health" food nuts happy a solitary piece of lettuce.
God preserve us all. It gets worse, though, because our penultimate contender is...
The Improbable Horn Of Plenty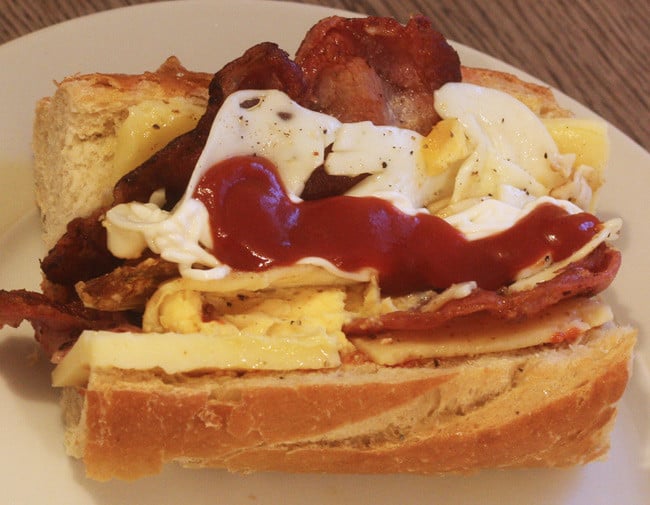 Very wisely, "Keith" did not provide a surname with his submission. His recipe ideally contains smoked bacon, "but the Missus always buys un-smoked for 'health' reasons", he lamented.
He continued: "Two slices to each roll, fried until it's a crunchy brown all over. We add whatever happens to suit and be currently available - THERE IS ALWAYS AN EGG, with a little yoke running (kindly supplied from a friendly neighbour, taste is so much better than shop bought).
"We prefer a decent crunchy roll, as pictured, tomato sauce, mayo. - and this is a must-have, a spoonful of honey or maple syrup, followed by ground pepper, over the bacon. We don't usually bother with butter or marg., there is a smear of tom. sauce and mayo on the inside, also, which you can't see, a sprinkling of small cherry tomatoes halves at the very bottom. To finish it off, cream cheese or slices of decent matured cheddar - jeez I'm feeling hungry again and I only just finished it..."
What, no black pudding? We can't help feeling you've left something out there, Keith. If you don't like black pudding, why not try Jenny Ng's truly radical concept...
The Butter of Peanut Profanity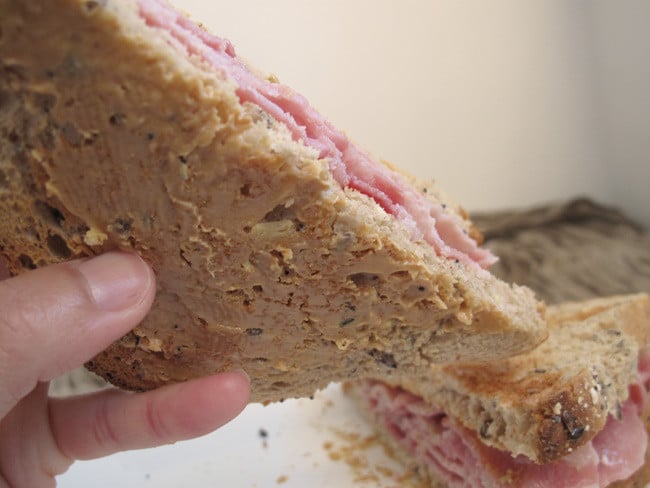 It's possible that Jenny has broken a veritable three-course meal of culinary laws by slapping peanut butter on the outside of her sarnie, more on which can be found by the stout of heart and artery right here.
That's quite enough. Let's get down to the business in hand, or rather the business in one hand, because you should be holding a bacon sarnie in your left paw, while using the right to vote now for the pinnacle of pork perfection...