This article is more than 1 year old
Last of the indie dedupe firms: We CAN fight off backup giants
Chris Mellor chats with Exagrid CEO Bill Andrews
Interview Bill Andrews, Exagrid's CEO, is a driven man, even though he's been at Exagrid for seven years. But Andrews still has a job of work ahead of him bringing Exagrid out from under Data Domain's massive market shadow.
In these days of every mainstream storage vendor having deduping backup-to-disk arrays – with the notable exception of NetApp – Andrews is running the last of the independents, a small company selling against giants like EMC, HP, IBM, etc.
What's his play? It's to have one of the better products in the game, one which provides the shortest backup window and the fastest restore – which, Andrews adds, has no restrictions on which backup apps are supported and no scalability problems, as well as no forklift upgrades over a range of separate products – the curse of Data Domain users.
The Register was there for one of Andrews' presentations, where he quickly dismissed what he classed as knock-offs from competitors; defined weaknesses and benefits of his firm's products against that of its rivals; and looked at Exagrid's coming attack plan.
Exagrid is focused on small and medium enterprises with its sweet spot being 10TB - 80TB backup. It has been shipping product for five years and has passed the 1,500 customer level – with 300 of its customers featured in user stories, a fact of which Andrews is very proud.
Customers get a seamlessly scalable deduplication product which scales out in a grid, not a cluster, architecture. Andrews says this is because Exagrid uses a zone deduplication architecture and not the block-based dedupe used by Data Domain, Quantum's DXI products, HP's D2D and the Dell 4000.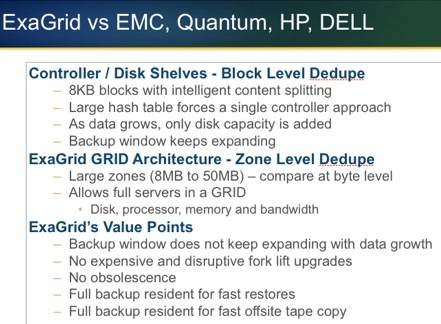 He says competitors using the block-based model need huge hash table indices as backup data size increases, and need to implement a controller-shelf architecture which can only scale up via forklift upgrades from one product in the supplier's range to a bigger one.
Exagrid does post-process dedupe, with an incoming backup stored in a landing area, so to speak, and deduplication processing taking place after the backup stream has finished coming in. This means restores from the latest full backup, Exagrid keeping the last full backup un-deduped, are fast because no rehydration, no re-building of the full file or folders from a deduplicated set of elements, is needed. Restores from deduped data though are the same speed as Data Domain.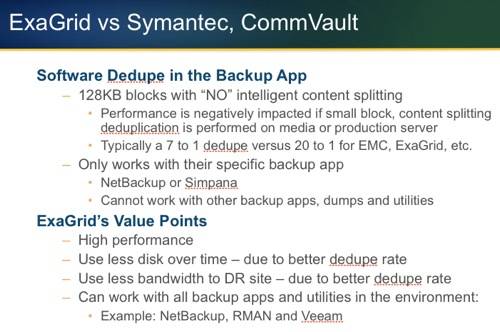 Exagrid does not compete with Sepaton and IBM's ProtecTIER which, he says, are high-end, byte-level dedupe, Fibre Channel connect, virtual tape library (VTL) devices. Sepaton, he says, only gets four new customers a quarter. Nor does it compete, that much, with software-only dedupe products like Symantec's 5200, limited to NetBackup, EMC Avamar, and Commvault's Simpana, with its, he says, 35,000 customers.
Andrews says he doesn't see FalconStor dedupe anymore, saying that company is concentrating on CDP (Continuous Data Protection) now.
Tape lives... VTL dedupe shrinks
Interestingly, 50 per cent of Exagrid's customers write backups to tape from the dedupe hardware boxes. The firm can replace tape as the primary backup but many customers are keeping it as a secondary backup facility.
The VTL dedupe market is shrinking. Data Domain concentrates on NAS-interface product. What that means is that Data Domain is direct competition, near-overwhelming competition, to Exagrid. Andrews says Exagrid picks up disaffected Data domain, Quantum and other controller-shelf architecture product customers who get frustrated with the forklift upgrades made necessary by their backup data amounts increasing beyond an installed product's capabilities.
He says that the Exagrid range will expand upwards; a bigger model coming in the fist quarter of 2013 and another a year later. All models can be incorporated in the grid.
Channel-wise Andrews is not interested in OEM deals, saying: "No successful storage company has an OEM strategy" – traditional resellers being his core partner base. He has a telephone bureau phoning 25,000 prospective customers a year, "and 85 per cent still use tape."
What about remote site sales? "We don't chase remote sites. In our market remote sites are all done by software (replication). We don't do anything for remote sites."
Exagrid is private and the hoped-for prospects are an IPO or acquisition. We note that NetApp does not have a backup-to-deduping-disk-array product. Andrews is convinced it must ultimately have one; the market is too big to ignore and EMC can use Data Domain as a Trojan horse in NetApp accounts.
NetApp doesn't have a deduping backup disk array and needs one. Exagrid, meanwhile, has one that scales better than EMC Data Domain kit and could do with a big brand partner or owner. Will NetApp make the step to buy in a non-ONTAP deduping box? We'll see but NetApp is not renowned for moving quickly in these cases.
Meanwhile Exagrid and its channel are out on the mean backup dedupe to disk streets, hustling for a living – slowly growing, not catching up with Data Domain much, even though it can undercut prices in deals it goes for, but not falling behind either.
Exagrid is like a small terrier with its teeth in Data Domain's ankle. It doesn't hinder Data Domain much, but it won't let go, not for a moment. ®