This article is more than 1 year old
WTF is... NFC
Not For Consumers?
Feature Near Field Communications (NFC) has been around for almost a decade, but only recently become a smartphone feature because, simply, no one knows what it's for.
Not that NFC is short of applications, but its broad utility makes it hard to pin its ideal usage model down. When Nokia, Philips and Sony first proposed the short-range radio standard back in 2004 the three companies clearly had their eyes on ticketing and electronic currencies. Since then the technology's capabilities have broadened to the point where NFC can do just about anything.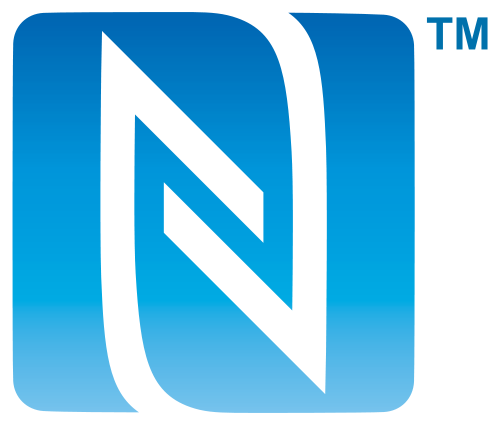 Here's the proper NFC logo - don't ever expect to see it again
Except, ironically, call itself "NFC". That name got hijacked before it could be protected.
The NFC Forum, owner of the standard we know as "NFC" insists that it does not own the term, arguing that the abbreviation is too generic to enshrine as a trademark. In fact, the Forum simply neglected to defend the brand, so I'm obliged to note that NFC devices should more properly be referred to as "N-Mark Compliant Devices". But having done so, I'll continue to use the term NFC with alacrity.
The NFC standard is different from other radio standards in that the receiver isn't required to listen for connections, and only one party requires power for communications to occur. This makes it practical for unpowered ID tags, such as those embedded in credit cards. It also increases the security of the transaction by reducing the range over which communications take place: there's less leakage for the bad guys to tap.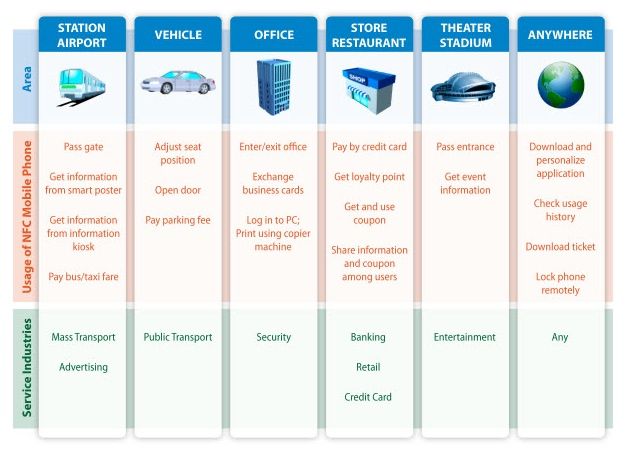 NFC can do almost anything, which makes it hard to sell
Source: NFC Forum
Unlike RFID (Radio Frequency Identification) tags, which are powered up by the received radio signal, and can thus be read at extreme ranges by upping transmitted power, NFC devices are powered using an induction coil with a very limited range - a few centimetres at most. But the additional power provided can be used for other things, such as updating an e-ink screen, or - more commonly - performing some serious cryptography.
That encryption makes NFC suitable for payment cards, and the tech is already embedded in millions of UK credit cards for pay-by-pat functionality, though despite the wide scale deployment shoppers are still reluctant to embrace the technology. It's common to see NFC credit card receivers in sandwich shop chains, for example - the put them in to speed the throughput of hungry punters - by it's much less common to see them in use. It's less common still to see them working smoothly.
NFC devices are either "Active" and "Passive". Passive devices never have any power, like a credit card or luggage tag. They are cheap to produce. Active devices can operate in passive mode, but also have a powered reader enabling them to interact with passive devices too. NFC-enabled smartphones are all active, so they can read stickers, tags and even credit cards once a suitable application has been written, making them into mobile terminals as well as digital wallets.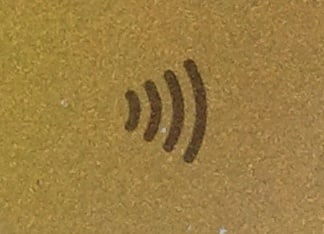 You might already be packing a 'passive mode' NFC credit card - look for the logo
Proximity payments have become almost synonymous with NFC, but only because that's where the mobile industry initially believed there might be rather a lot of money to be made. Handling cash is very expensive, and since the NFC standard was expanded to incorporate payments, network operators, handset makers and software developers have been salivating at the cash-milking potential.
And there is serious money at stake. Right now there's only NFC-enabled phone in the UK which supports pay-by-pat. Samsung Galaxy S III can take the Orange QuickTap wallet - unlike, ahem, Orange's own NFC-enabled San Diego phone - which can then take an instance of a BarclayCard for instant payments in WH Smiths, Co-Op and assorted sandwich shops. Asda (UK) and Coles (Australia) are both gearing up to support it now. Those shops, near on a million worldwide, are already taking payments using NFC-equipped plastic cards with BarclayCard processing a million such payments every month in the UK alone.
Sadly for the operators and their partners, the dream of taking a cut on every bar of chocolate or packet of fags sold, hit a wall in the form of Visa and Mastercard, the entrenched credit card duopoly. Without their support, no payment system is going to get traction.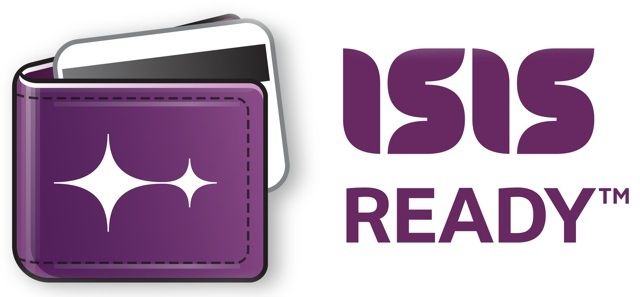 The US operator-backed pay-by-bonk brand ISIS has been delayed into 2013
These days, then, the plan is to make money on vouchers and loyalty schemes, with operators banding together to provide advertisers with national platforms, leaving Visa and Mastercard to collect the revenue. That puts operators up against Google Wallet, a competing platform with the same business model. It lacks the brand awareness the network operators enjoy, but comes backed with Google's unmatched experience in selling advertising.