US government websites will miss the deadline for transition to IPv6 on a huge scale, predicts a watchdog. Only 12 per cent of federal website domains are currently compatible with new internet protocol IPv6 according to the National institute of Standards and Technology. There are just two days to go before the deadline for compliance hits on Sunday.
IPv6 was introduced to address the shortage of IP addresses in the current internet protocol, as the world's demand for web addresses has hugely increased.
The Obama administration set the "aggressive" deadline for all federal domains to support IPv6 two years ago, demanding that all federal agencies upgrade external facing servers, domains and services to IPv6 and that they appoint a transition manager to oversee the change.
An astonishing 52 per cent have made no progress at all towards IPv6 compatibility in that time, according figures from the National Institute of Standards and Technology. Only 12 per cent are fully operative.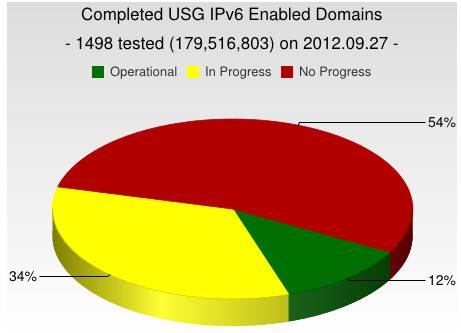 Figures from the National Institute of Standards and Technology
Various excuses have been given for the failure to comply: an expert quoted in Network World said that federal IPv6 deployment has lagged due to a lack of support from government contractors who still use the old standards. He also cited a lack of funding allotted for the change, saying that departments were simply told to do it.
It's not clear what the consequences of the failure will be. ®