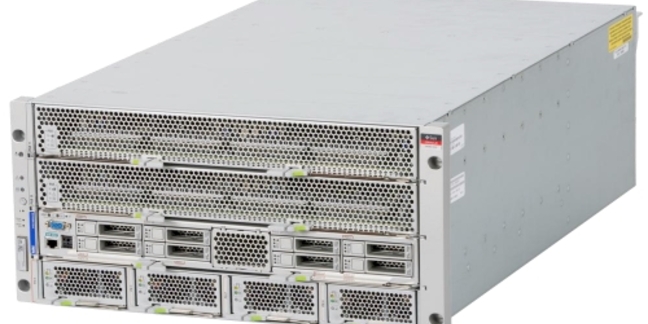 Comment Oracle has said that sales of its Sparc T series of servers are growing in the "double digits" in its most recent quarter, and that it expects this to continue through the remainder of its fiscal year. And while Oracle has not been precise about what is selling and what isn't selling, what is clear is that Oracle wants to peddle more of its Sparc SuperCluster "engineered systems" to customers.
To that end, and ahead of next week's OpenWorld extravaganza with customers and partners that many expect to feature new Sparc T5 processors and their systems, Larry & Co. are talking up the feeds and speeds of the Sparc SuperCluster analogues to the Xeon-based Exadata database and Exalogic application serving clusters
Oracle sells this iron against big symmetric multiprocessing (SMP) boxes from IBM and HP, as they are configured up with Solaris, LDom partitioning (also known as Oracle VM for Sparc), Enterprise Manager 12c control freakage, and Oracle's E-Business Suite of ERP applications.
The details are a bit sketchy, and but Oracle claims that the Sparc SuperCluster in a half-rack configuration, based on the current quad-socket Sparc T4-4 servers using the eight-core Sparc T4 processors, "easily supports" 2,000 concurrent users on its Oracle Financials module at a rate of 200,000 transactions per minute with only 20 per cent utilization in the application tiers of the cluster.
Oracle has also put out a technical white paper that shows off the performance of the SuperCluster running various parts of the Oracle E-Business Suite, and will discuss these results as well as the benefits of the reference architectures and preconfigured nature of the "optimized solution" based on the SuperCluster in terms of how quickly you can get up and running.
Oracle says that if you follow its recipes, you can move onto E-Business Suite five times faster on the SuperCluster than on a "standard new installation."
You always have to be careful when one vendor configures its machines and those of its competitors to make comparisons, as Oracle has done to describe the benefits of taking the stacked and racked Sparc/Solaris cluster instead of Unix alternatives from its rivals.
And these comparisons seem to be very weird indeed.
In the fine print at the bottom of the announcement, the SuperCluster has two Sparc T4-4 servers with a total of eight T4 processors running at 3GHz. The SuperCluster half rack has 36 600GB drives across those two server nodes, plus an Exadata storage server (based on x86 engines). What Oracle doesn't say is that this box is loaded up with flash cache to radically speed up performance running database transactions – in this case 4.33TB of Oracle's own PCI-Express flash drives – as well as 2TB of main memory, if it is a standard SuperCluster. There's absolutely nothing wrong with this configuration.
And there's no doubt that if you do the math the way Oracle does, that this Sparc machine would end up with a 56 per cent lower cost of acquisition and a 40 per cent lower total cost of ownership over three years compared to IBM Power Systems and HP Superdome2 machines.
The only problem is that Oracle is not being fair.
Ellison's server brigade says that a comparable IBM setup starts with an eight-socket Power 780, with each eight-core Power7 processor spinning at 3.8GHz and a total of only 512GB of main memory. And here's the comical bit: on this machine, Oracle configures a full rack of DS8700 disk arrays plus an expansion rack with a whopping 384 of IBM's 146GB Fibre Channel disks. This is an utterly stupid configuration, and one that Oracle has made in the past comparing the x86-based Exadata to IBM's Power 795 behemoths running AIX.
If Oracle has flash in its machines to reduce the drive count, then the IBM machine – which supports many different flash options – should have it too. The Power 780 can support up to 4TB of memory as well, and should not be memory constrained, just like the Sparc SuperCluster is not.
Ditto on the stupidity scale with the Superdome 2 machine, which Oracle has set up with sixteen four-core Itanium 9350 processors running at 1.73GHz with 1TB of memory and a high-end, two cabinet EVA8000 array with 182 300GB Fibre Channel disks.
I honestly don't know if the Superdome 2 machines and HP-UX 11i v3 support internal flash memory to help accelerate OLTP workloads – if it exists, I could not find it in the online feeds and speeds for the Superdome 2 servers. If it does not exist, perhaps it will come with future "Poulson" Superdome 3 machines, or whatever they will be called.
Even if the flash can't be located in the server, there are cheaper – and better – HP storage arrays that have integrated flash to accelerate performance, and in both cases, Fibre Channel-based arrays are the most expensive options available to get a certain I/O rate.
A fair comparison between the storage options on what seem like perfectly reasonable server setups would be useful, Oracle. And how about some actual benchmark test results on all three configurations, not just on the Oracle iron, and what about running actual E-Business Suite benchmark tests that fully gauge the system performance, not leaving 80 per cent spare capacity around?
Do it right, add in all the systems, database, and application software costs, and stop taking shortcuts to puff up press releases. ®
Sponsored: Webcast: Discover and secure all of your attack surface