Updated The Consumer Electronics Association is concerned about America's future. "The culture of entrepreneurship and relentless innovation has made America home to the greatest advances in technology," they argue. "But today, that culture is under threat."
The CEA's leadership has not, it appears, had the good fortune of visiting Englewood, New Jersey, home – in a bit of geographic dissonance – of Popcorn Indiana, where relentless innovators have developed the finest snacking machine ever to come from the fertile minds of cultured US entrepeneurs: the Popinator.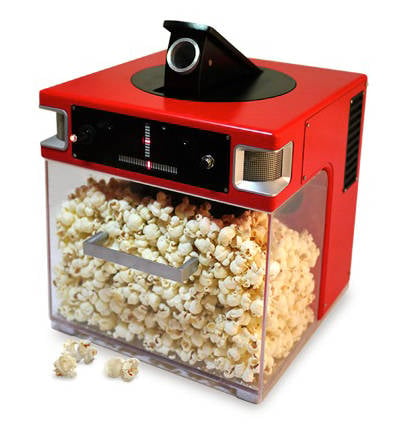 Behold the Popinator, proof positive that we still live in the greatest days of American ingenuity
As explained by P.I. electrical engineer Ted (no last names, please) when describing The Popinator Project, the snack-shooting robot is "a fully automated, voice-activated, popcorn-launching machine" that "uses a binaural microphone system, which is similar to the way the human hearing system works."
Simply say the word "pop" and the Popinator zeros in on you, displays your mouth's X and Y axis coordinates on its LED display, and fires a piece of popcorn towards the source of the sound: right between your lips. "I just say 'pop'," exults sales manager Barry, "I get a snack right in my mouth."
Of course, you may need to jockey a bit to ensure a perfect popcorn touchdown. As Ted explains, "Every piece of popcorn is different, different shapes and sizes, different aerodynamic properties, basically. When you're shooting a piece of popcorn, there is only so accurate you can get it."
Upon learning of this sophisticated advance in both robotics and snack-delivery technology, The Reg of course immediately contacted Popcorn Indiana to find out how much it would cost to install such a marvel here in San Francisco's Vulture Annex.
Our hopes were dashed when a company spokeswoman told us, "Unfortunately, the Popinator is not for sale right now." Those hopes rose a smidgen, however, when she quickly added, "But maybe one day."
Our faith in American innovation – after being somewhat deadened by the CEA's fears – also rose when she assured us, "Everything you saw it do in the video is real and really happened."
Our hats are off to the New Jersey home of Bacon Ranch, Buffalo Cheddar, Touch of Sea Salt, and so many more flavors of snacking goodness, as well as so many dedicated popcorn poppers and popcorn-delivery-system pioneers who, it must be said, seem to genuinely love their work.
As their website proudly declares, "We have special kettles that are filled, by hand, one scoop at a time, by real people, who are carefully producing, oh-so-lovingly, the greatest popcorn you've ever had. That sentence had a lot of commas, so you know we're serious." ®
Bootnote
Although the Popinator is not now available to us non–Popcorn Indianans, we have our fingers crossed that we might yet find one under our Christmas tree as 2012 comes to a close, just in time for National Popcorn Day on January 19, 2013.
Update
A commenter to this story has cited an article by ABC News which states that the Popinator is a "hoax". The Reg contacted Popcorn Indiana for their response to this assertion, and received the following reply:
The Popinator is a prototype and is a work-in-progress. Everything you see it do in the video is real and really happened. It is a project we are working on internally and the technology behind it is still in the testing phase. We are so heartened by the positive response to our concept that we are exploring ways to bring it to life.
Due to the fact that Popcorn Indiana is located in Englewood, New Jersey, and we here in San Francisco's Vulture Annex are (according to Google Maps) a 47-hour, 2,905-mile drive from their offices, we cannot simply drop in to discover for ourselves whether this lighthearted device is, indeed, "real" – but we thought you might appreciate reading the company's response. Caveat poppator, or some such...