Chinese telecoms equipment maker Huawei has a bit of an image problem. It pulled in revenues of more than £10bn in the first half of 2012, thanks to its status as the number two maker of telecommunications infrastructure in the world, just behind Ericsson. It also operates a burgeoning enterprise business and its fast-growing smartphone business has China's second-largest market share.
Outside China, however, the company is treated with suspicion.
Australia, after receiving briefings on the company from US sources, banned it from supplying kit to its national broadband network on national security grounds. India seems set to adopt a similar stance. The EU looks set to launch a case against Huawei and Shenzhen rival ZTE accuses it of selling kit at below cost, thanks to Chinese government subsidies.
Needless to say, Huawei is spending a fair bit of money to correct such perceptions, redoubling PR efforts and hiring several high profile execs from senior government positions to improve its international relations and smooth relationships abroad. These include former UK CIO John Suffolk as its new global cyber security chief and Donald Purdy, a former White House security advisor, as CSO.
The charm offensive even extends to inviting members of the foreign press to meet the company. So, keen to see what all the fuss is about The Reg went along to Huawei's Shenzhen headquarters in southern China's Guangdong province to cop a feel of its soft power efforts.
Trouble away from home
We all probably know the Huawei story by now. Founded in 1987 by Ren Zhengfei, a former civil engineer in the People's Liberation Army, with just a few thousand pounds, it now has 140,000-employees, annual sales exceeding $32bn, operates in 150 nations and happily sells fixed line and mobile communications infrastructure kit, mobile devices, and even cloud computing and datacentre products.
Founder Ren's military background, his Communist Party membership and the growing number of cyber attacks on US government, military and private enterprises originating in China have sparked intense scrutiny of Huawei, fuelled by some incendiary third-party reports.
Critics argue that it could, or already has, provided the means for the Chinese authorities to disrupt or spy on the communications of rival states. These claims are strongly denied by Huawei, as are any statements claiming it's under government influence. The firm is always at pains to point out that its global competitors have much of their kit made in China too, but are not subject to the same level of scrutiny.
Yet suspicion continues. In the face of such hostility, the UK has proved a rare friendly market to Huawei, which is a major supplier of equipment for BT, Talk Talk, Virgin Media and all of the country's mobile operators. That might be why the Chinese giant recently staked a further £1.2bn investment in Cameron's Britain, including at least 700 more jobs.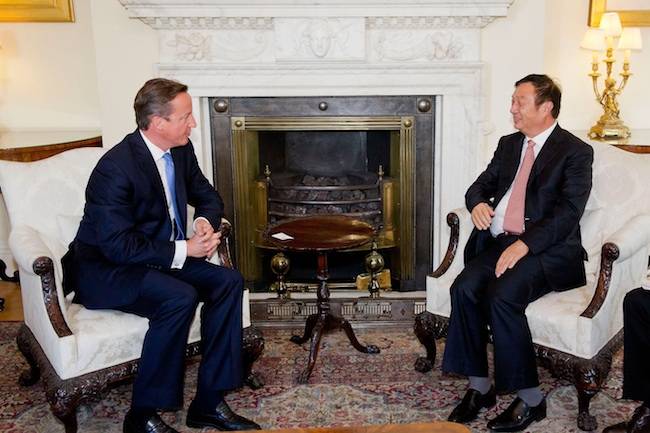 Ren Zhengfei with David Cameron at Downing Street, September 2012
Welcome to the campus of dreams
It's little wonder with that media narrative, that Huawei is looking to soften its image and promote its better side to the world, which was why The Reg was taken on an extended tour of its impressive 2km2 campus. The sprawling site located in the Shenzhen suburb of Bantian is a lush green landscape of perfectly coiffured vegetation, charming ponds and low rise glass and metal office blocks. There are huge on-site canteens serving up delicious looking meals for a pittance – including superb curries, apparently – recreational areas where staff can de-stress with a game of basketball, pool or ping pong, and even a mini-village of temporary accommodation for 7,000 employees complete with outdoor swimming pool.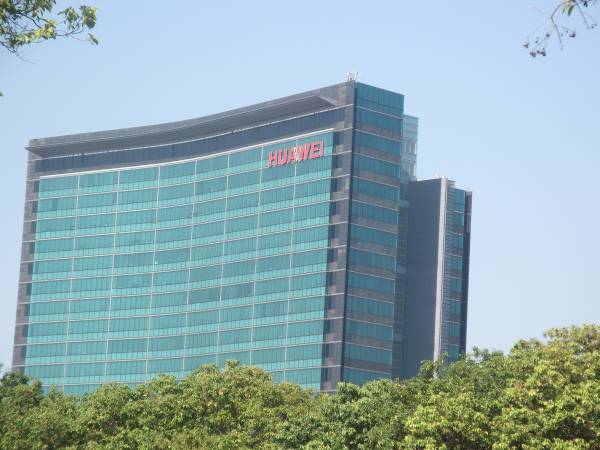 Huawei's main campus building
It's a welcome respite from the frenetic, polluted frontier land of Shenzhen proper, but still feels slightly surreal and – aside from the huge crush of lunchtime, where tools are ubiquitously downed for 1.5hrs – the perfectly kept pathways and corridors are virtually deserted. Those workers, when we did see them, ambled down to lunch in casual clothes with the relaxed, amiable disposition one would expect given the unique financial and career opportunities they have at the firm.
Huawei says it is not a state-owned enterprise nor is it listed on an international stock market, but instead is fully owned by its Chinese employee 'shareholders', with founder Ren having the largest share at 1.4 per cent. The 65,000 shareholders currently at the firm then vote for a kind of electoral college of 60, who are able to elect members to the board.
Although salary levels are around the standard for similar Chinese firms, after two years with the company employees are given shares, according to rank, performance and time spent at the firm. It's the dividend payments of these shares, a spokesperson said, that means Huawei staff can retire at the ridiculously early age of 45 – as long as the employee has been with the firm for eight years or more. They apparently provide a generous source of income and help Huawei attract the best talent, as well as giving the campus, where the average age of employees is just 29, an atmosphere more Logan's Run than Silicon Valley.
Innovation, innovation, innovation
These employees, plucked from the best universities in China, are seen as the key to Huawei's success. Over 10 per cent of the firm's revenues are spent on research and development, with 70,000, or around half, of its employees working in this part of the business. Some 70 per cent of this bunch are said to possess doctorates.
The key message we were fed at every turn was just how innovative Huwaei has become. The company may have clashed with rival Cisco in the past over alleged patent infringement, but wants the world to know it is determined to single-handedly fly the flag for a nation whose tech firms have historically been known as copycats rather than innovators. Huawei now has 23,000 patents which it hopes will stand it in good stead for the future.
The proof of all this investment is on display in the huge exhibition hall, where customers, regulators and government representatives are all treated to an impressive array of kit designed to show off the company's best efforts. Kit such as its SingleRAN products designed to offer mobile operators multiple spectrum band capabilities of competing standards from a single antenna. Or its user-targeting beamforming technology which has been developed to save power and increase efficiency in the transmission of radio waves by intelligently targeting the signal towards where there are most users.
The AtomCell is one early product that makes use of this beamforming tech. Unveiled at Mobile World Congress this year it's Huawei's answer to the coverage and backhaul problems associated with small cells, which are increasingly being demanded by operators to light up coverage blind spots. Not yet deployed, this micro base station product could be seen in airports, office blocks, and shopping malls before long, a Huawei spokesman explained.
Huawei is also working on Beyond LTE technology which could offer speeds of up to 30Gbps to cope with the rising flood of global data, although this is still at a very early stage. Elsewhere on the exhibition floor we were shown prototypes of new datacentre cabinets which the firm said can improve energy efficiency by up to 30 per cent by effectively sealing off the cabinet to the outside air and cooling it, rather than the room.