Chips with everything
Huawei's bid for world domination and self-sufficiency also extends to developing its own processors, which it has been doing so since 1991 in part of the business now known as Hi Silicon. This unit began life developing chips for use in Huawei's core network products but now can be found producing for its smartphones, such as the latest flagship handset, the Ascend D1 quad core, based on ARM's Cortex A9.
Huawei spokesman Roland Sladek said that having the ability to build its own smartphone chipsets gives the firm an added differentiator. "Being able to optimise the integration of CPU and modem gives us a real competitive advantage and is something not many other manufacturers can do. There's also a cost advantage." It's certainly helping the devices division grow pretty quickly, at a CAGR of 40 per cent over the nine years it has existed to become the sixth biggest handset maker globally.
Ovum analyst Karen Liu told The Reg that developing chips internally was a long-term investment which could pay off. "Chip level R&D takes a long time, but even just coming up to speed gives a company leverage over merchant suppliers, knowledge with which to better influence suppliers, customers, standards bodies," she added.
Reports are now suggesting Huawei will soon be bringing even more of the mobile stack under its control with the development of a mobile OS, although it seems at the moment this is merely a cautionary measure in case Android or Windows Phone at any point become unavailable.
Knocking on the CIO's door
With carrier revenue slowing at home and abroad and facing significant international competition in the devices market, it's not surprising that Huawei has sought to tap the enterprise IT market to boost profits.
Once again the emphasis seems to be on being able to provide as comprehensive an array of vertically integrated capabilities as possible, which means enterprise networking, cloud and datacentre infrastructure, unified communications and collaboration, enterprise wireless, and security.
The security and storage elements are probably the odd ones out in that they grew out of a joint venture with Symantec, but elsewhere the emphasis is again on home-grown tech – Huawei even going as far as writing its own hypervisor and cloud management system.
Forrester analyst Bryan Wang told The Reg that while the firm has great products, it's still learning how to align them to specific enterprise requirements, which can vary hugely depending on region and vertical.
"It's about how to put those products together and sell them as a solution to industry customers. Huawei knows how to value and protect patents but this is more about industry expertise and knowing customer needs, which takes time. It took Cisco 20 years to get it right," he added.
"They are realising it's a challenge and a bigger challenge than expected so they're putting more and more resources internally to get things right instead of blindly hunting for customers."
It already has a few notable successes in enterprise, however, including a project to help build the world's largest datacentre for China Mobile in the north of the country, and engineering a new cloud storage system for Big Data being used by CERN, according to Huawei CTO for IT Solutions Sales, Ron Raffensperger.
A Silicon Valley veteran with over 30 years of experience in the IT game at IBM, Siemens and others, Raffensperger likened the energy in Huawei and the tech manufacturing capital of China, Shenzhen, to that of the West Coast in the early days.
"Everyone is from somewhere else, and they're all young people," he said. "What you'll find here is not like a lot of places in China. People think they can be whatever they want to be."
It's also similar to Silicon Valley in terms of the air pollution that plagued parts of California in the 1970s and 80s, when everything was built locally. However, the Shenzhen government wants firms in the region to follow Huawei and focus on a knowledge-based model – researching, designing and developing rather than manufacturing, claimed Raffensperger.
"We have a new facility at Songshan Lake where we'll do initial product runs but the vast majority of it is outsourced to [companies like] Foxconn," he said.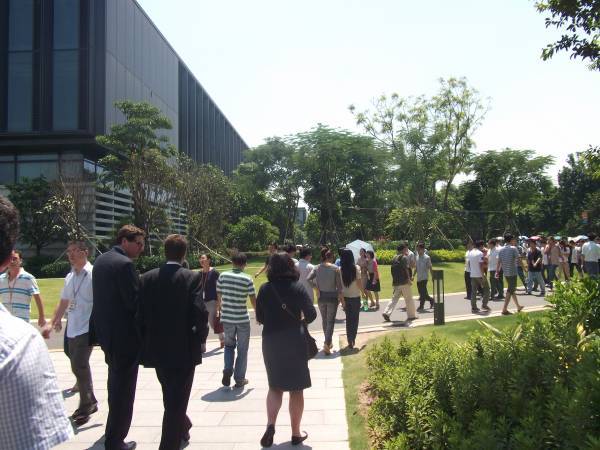 Huawei's campus is more Logan's Run than Silicon Valley
Following in the footsteps of Congress
On the final day we got a sneak peek inside the highly restricted Songshan plant. Despite Huawei's constant driving home of the message that it is an R&D-driven, knowledge-based business, the place is huge – 600,000 sq metres – with another plot of land cleared next door for an even bigger development which will more than double the plant in size. It is a world away from the high volume human misery farms typical of Shenzhen and greater China, though – it's clean, efficient, industrious and everyone gets an hour and a half for lunch.
"Four or five years ago Huawei did everything on its own," said Gabor Schreck, global supply chain management director. "Now we try and keep at least 30 per cent in house. We have to look at manufacturing as strategic value because it does help with product design if you also have hands-on manufacturing capabilities."
Critics will argue the firm wants to keep this hands-on approach so that it can still engineer those pesky security backdoors into its products, and Schreck claimed to have led investigators from the on-going Congressional committee around the site to try and allay their concerns. He walked us through the same production process for printed circuit board assembly (PCBA) – starting with a bare PCB imported from a Huawei supplier; then the automatic soldering of pre-assigned components; inspection; loading with software; and then final installation into cabinets ready to power an ISP's optical networks.
His argument was that only at the very end of the process, once all components have been soldered and the PCBAs inspected, are they customised according to specific customer orders.
"I believe that when people come to the factory they have a much better view of the overall thing, whether their issue is sales-related or trust-related," he told The Reg. "This is manufacturing, it's not rocket science, it's a very down to earth thing. If someone wanted to put back doors in [a PCBA] they could but they wouldn't know where it was going – there's a very low likelihood it would end up in the world where you wanted it to go."
Huawei's detractors, of course, will probably claim that every product has a backdoor installed as standard. It should also probably be mentioned that we spotted several crates of optical networking tech bound for Bandar Abbas in Iran – a reminder of yet another controversial part of the Huawei story. The firm was forced to deny selling censorship tech to the repressive Islamic state late last year and promised voluntarily to scale back its business there "due to the increasingly complex situation". It's certainly not alone among Chinese firms in its dealings with Iran, however.
Similar topics