Cisco fluffs up freebie Nexus virtual switch
Big price cut, but the one with goodies still ain't free
Cisco is poised to begin beta testing of the latest version of its Nexus 1000V virtual switches, including a new Essential Edition which it will offer for the low, low price of nothing at all.
The reasoning behind this pricing policy is simplicity itself: if you are trying to take on VMware in the market for virtual switches, as Cisco Systems most certainly is so it can extend its dominant position in the physical switch world into the virty world, that job got a whole lot more complicated the moment VMware coughed up $1.26bn like a hernia check on a mooseto acquire Nicira, the maker of the Open vSwitch virtual switch.
How can you charge for a virtual switch when the other guy is giving it away?
The answer, as Cisco knows full well, is that you can't. Eventually, any virtual device, be it a hypervisor or a virtual switch, will commoditize and you have to think of it as a kind of loss leader for other features that you can make money on. As the open source market so aptly demonstrates, sometimes you have to give away your product to get a large enough pool of users who are willing to give you money for something – in most cases add-on software or subscriptions for support.
Cisco has over 6,000 customers who have shelled out cash to get Nexus 1000V virtual switches. Cisco has not said how many licenses it has sold, but says that some customers have more than 1,000 Nexus 1000V licenses running virtual switching between virtual machines running on hypervisors on its "California" Unified Computing System servers, and itself running inside of a VMware ESXi virtual machine.
The Nexus 1000V virtual switch was updated with a 1.5.2 release back in August, and during the VMworld virtualization extravaganza at the end of that month, Cisco previewed some of the upcoming features in the Nexus 2.1 release, which is set to go into beta testing this month.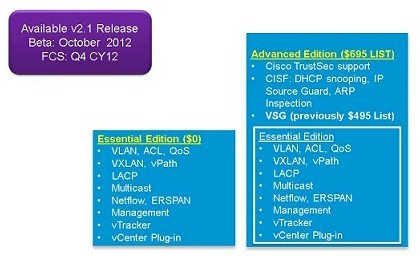 The bifurcated Nexus 1000V virtual switch
This new version of the Nexus 1000V will have a plug-in for the vCenter management console for the vSphere server virtualization management console, and will be supported on the latest ESXi 5.1 hypervisor from VMware. It also extends Cisco's TrustSec security policies for physical switches down to virtual switches, adds high availability clustering across data centers for virtual switches, and a new upgrade process that allows for Nexus 1000V virtual switches to be upgraded in a rolling manner that won't take hypervisors offline.
The latest Nexus 1000v also supports VMware's VxLAN extended VLAN feature, which allows for live migration to occur over a Layer 3 network that presents itself as virtualized Layer 2 network.
Starting with the 2.1 release, as Gary Kinghorn, senior solution marketing manager for network virtualization and SDN at Cisco, explained in a blog post, Cisco is moving to new pricing and packaging with the Nexus 1000V – and while the company is not about to open source its virtual switch (you can stop choking and laughing now at that prospect), it has shifted to a "freemium" distribution model.
There's now an Essential Edition that costs nothing and includes VLAN and VxLAN features as well as the plug-ions for vCenter and vCloud Director from VMware. The Advanced Edition adds Cisco's TrustSec security extensions and its Virtual Security Gateway (VSG), a virtual firewall that plugs into the virtual switch, has other features such as DHCP snooping, IP Source Guard, and Dynamic ARP inspection, and costs $695 per processor (presumably Cisco means "socket", and is core-agnostic).
Considering that the license to VSG alone used to cost $495 and a license to Nexus 1000V itself used to cost $695, you can look at this as saying that the basic virtual switch is not worth much anymore – and neither was that VSG firewall – or that the security features in the Advanced Edition are worth $200 and the VSG firewall is worth the same $495 that Cisco was asking for it.
Either way, Cisco just admitted that the virtual switch is not worth money, but just an ante to gamble to make some money – if you play the cloud right. ®