This article is more than 1 year old
Analysts slash Ultrabook sales estimate by over 50%
Global 'meh' over overpriced laptops
Analyst house IHS iSuppli has slashed its forecast for Ultrabook sales by more than half for this year, and the outlook for 2013 could hardly be described as rosy, as well.
Earlier in the year, iSuppli predicted that 22 million of the svelte laptops would ship by the end of 2012, but it's now cut that forecast to 10.3 million. It's hedging its bets even further by saying the platform will need a lot of sales in the last quarter to meet even that new target. iSuppli's Ultrabook sales estimate for 2013 has also fallen, from 61 to 44 million units.
"So far, the PC industry has failed to create the kind of buzz and excitement among consumers that is required to propel ultrabooks into the mainstream," said Craig Stice, senior principal analyst for compute platforms at IHS in an emailed statement.
"This is especially a problem amid all the hype surrounding media tablets and smartphones," he writes. "When combined with other factors, including prohibitively high pricing, this means that ultrabook sales will not meet expectations in 2012."
Quite simply the platform is overpriced, undersold, and no one – outside of Intel – appears very excited about it. iSuppli's latest figures look very optimistic, with Q4 sales needing to outpace all Ultrabook sales for the rest of the year combined to make the reduced targets. The analyst's figures for 2013 look even more pie-in-the-sky to this El Reg hack.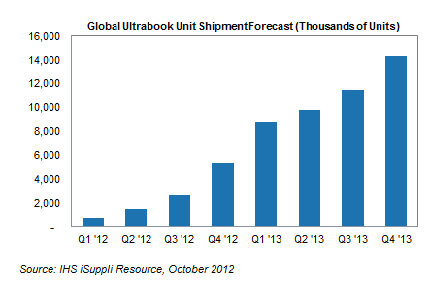 Even the revised figures look a little optimistic
The basic problem for Ultrabooks at the moment is one of price, Stice explained. Intel's original vision for the platform was for a price point of around $600, but even with the $300m in support and subsidies that Chipzilla is pushing out to manufacturers, prices are much closer to a grand – and at that price, customers aren't biting.
Sure, Apple has the high-end of the laptop market paying much more than that, but its customer base is used to paying top dollar, whereas PC users are more thifty. At the same time, smartphones are getting more powerful and tablets are appealing to those that want portability without having to lug around an entire laptop.
"With the economy languishing, ultrabook sellers may have trouble finding buyers at the current pricing," Stice said, "especially with fierce competition from new mobile computing gadgets such as the iPhone 5, Kindle Fire HD and forthcoming Microsoft Surface."
As El Reg pointed out back in July, Intel is going to take a beating on Ultrabooks for quite some time. As things stand, manufacturers aren't that keen on the lower margins they'll be getting, SSD drive prices remain higher than they might have been expected to be thanks to the floods in the Far East, and the economy remains in the doldrums.
In the meantime, Microsoft has its Surface platform, there are new iPads, and Android and Windows RT fondleslabs are coming onto the market. As of today, Ultrabook is looking suspiciously close to Itanium in the history of great Intel cock-ups. ®