Oracle customers DEMANDED infrastructure cloud
Ellison's public IaaS cloud whips out private IaaS parts
OpenWorld 2012 Oracle co-founder and CEO Larry Ellison didn't want to get into the infrastructure cloud business, but the company's customers have pushed for Oracle to do it.
At the opening keynote at the OpenWorld customer and partner extravaganza in San Francisco on Sunday night, Ellison announced a new lineup of Exadata X3 database clusters and previewed the "cloud-ready" Oracle 12c database that will be the focus of more detailed announcements today. Ellison gave a history lesson on cloudy software and infrastructure and also announced that Oracle would be offering raw infrastructure – with some limits – on its Oracle Cloud, taking on Amazon's AWS cloud and other service provider and server maker rivals who are puffing up their own clouds.
And unlike industry juggernaut Amazon, which does not believe in private clouds, Ellison and therefore Oracle most certainly does, and therefore Oracle will be selling customers like banks, insurance companies, and governments chunks-o'-cloud infrastructure that is identical to the iron running in Oracle's own public cloud that they can install privately behind their firewalls and have Oracle run it.
Ellison was not only there when the software-as-a-service revolution got going, he hedged his bets even as Oracle was building its own monolithic application suites back in the late 1990s and bought a stake in NetSuite, which has become one of the dominant online ERP software companies and which, as Ellison loves to point out, came out six months before Marc Benioff left Oracle to found online CRM provider Salesforce.com.
"SaaS applications kind of gave rise to PaaS," explained Ellison, writing the Cloud Gospel according to St Larry. "We need some kind of platform underneath them." It wasn't until the launch in 2006 of Amazon's AWS in 2006 that people started thinking about infrastructure-as-a-service, according to Ellison's version of history. This is the order that Oracle has launched its cloudy wares, so this is the order Ellison wants to tell the story in, but this is silly.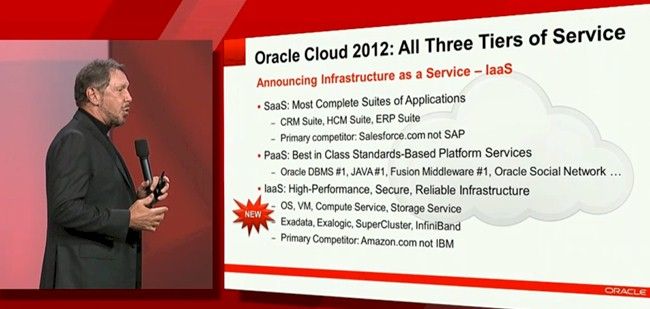 Ellison & Company swings all three ways on the cloud, public or private
Companies have been able to buy raw infrastructure for years, but they had to do it at the level of a whole server through hosting providers. And it is a bit of a stretch to call a shared email server or shared Web server a platform cloud. True infrastructure cloud computing – and Ellison has very precise and correct definitions of this – went mainstream with AWS and was driven by advancements in x86 server virtualization that have allowed for more efficient and flexible operation of virtualized server and storage infrastructure. SaaS has been here since the dot-com boom and has never gone away, although it has been transformed by underlying cloudy infrastructure, and it is really only in the past several years, with the advancement of application frameworks that platform clouds have taken off. The order is SaaS-IaaS-PaaS.
No matter what kind of cloud service you are talking about, they share common attributes, said Ellison. They hide the complexity of the infrastructure, platform, and application software from the end users, who access the cloud through a PC browser or smartphone or tablet applications.
The cloudy wares are managed by a service provider, upgraded by a service provider, and paid for up front by the service provider, and as with electricity, water, telecom, and other utility services, customers on pay for the capacity they use on a cloud. Capacity has to be available on demand, meaning it scales up or down when you need it.
If you don't have capacity-based pricing and elastic scalability, then it isn't a cloud. If you are managing it instead of a service provider (such as Oracle) then in Larry's world that is a private cloud, not the managed private cloud that the company has announced. Notice how Oracle has not announced a private cloud that customers can manage. The company doesn't want them mucking about in the code, and if you want to build your own cloud with Oracle's hard and soft wares, Ellison is happy for you to do that. But he ain't gonna manage it unless you want to pay Oracle's services unit some big bucks.
Last year at OpenWorld, when the database giant launched its cloud-enabled Fusion applications, Ellison also puffed up the Oracle Cloud, which was ironic considering how much fun Ellison made of the term "cloud" in prior years. At the time, it was called the Oracle Public Cloud, and it was designed to run Oracle Fusion apps in SaaS mode as well as to provide Oracle 11g database services and Java runtime services in PaaS mode. These days, it is just called the Oracle cloud, and there are now public and private variants
While Oracle has identified Amazon as its primary competitor in the IaaS space, it is not going to build up clusters and offer clones of EC2 compute and S3 and EBS storage cloud services and take on Amazon directly. Rather, Oracle is going to focus on the 390,000-strong customer base it already has and sell them infrastructure cloud services, obviating the need for them to go to Amazon in the first place.
"Our customers, who are running SaaS applications or platform services, need to run certain kinds of custom applications – and some of them existing applications – on the cloud," said Ellison, explaining how it got pushed into the infrastructure cloud biz. "The infrastructure is not plain, old infrastructure."
In fact, the infrastructure services will be based on Exadata servers running the Oracle VM for x86 implementation of the Xen hypervisor and supporting Oracle Linux or Solaris operating systems. And to be very clear, the Exadata slices will be based on the just announced flash-happy Exadata X3 clusters that Ellison talked about in the same keynote. If you want Sparc/Solaris raw infrastructure, then you will be getting a slice of a Sparc SuperCluster carved up by Oracle VM for Sparc (also known as LDom) partitions. Presumably storage services for the infrastructure cloud will be driven by the Exadata storage servers that are part of the Exadata and SuperCluster setups, not external ZFS arrays.
Ellison said that capacity on the machines will be sold on a monthly basis, and derived from actual usage, and we could argue that this is not a fine enough level of granularity to compare to Amazon EC2, S3, and EBS, which are sold on an hourly basis.
But Oracle could no doubt argue that AWS customers tend to buy reserved capacity where they lock up compute and storage for months at a time. If you want to run a slice of the Oracle Cloud in infrastructure mode behind your own firewall, Oracle is happy to do that and even goes so far as to make sure there is excess capacity in the box that you can activate on demand.
The point that Ellison stressed was that the Oracle Cloud's infrastructure services could not just run Fusion apps and provide database and Java services, whether you had it in your data center or Oracle's, but also that it would run E-Business Suite, PeopleSoft, and Siebel applications, too.
The things that you are not going to run on this Oracle Cloud's infrastructure service is Microsoft Windows and SQL Server, or Red Hat Enterprise Linux and JBoss, or any other operating system, middleware, or database program. It is not entirely clear what Oracle feels about other third party applications, either.
The exact pricing and availability of the infrastructure cloud services was not announced, and the Oracle Cloud site does not yet have any details. ®