This article is more than 1 year old
Windows System Center 2012: The review
Enterprise automation software for the masses
Deep dive Microsoft's System Center suite of products is not easy to categorize as a group. The breadth of the offerings falling under the System Center moniker makes being asked to review all of System Center in a single article somewhat intimidating.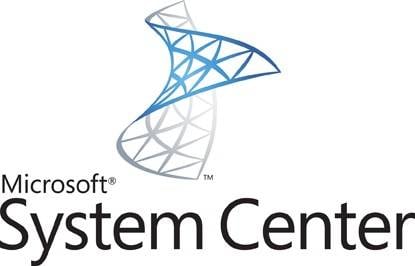 System Center 2012 has already seen production deployments – and SP1 is not far away. Microsoft's ragtag collection of mismatched "System Center" servers is slowly coming together to form an unassailable enterprise offering.
Combined, the System Center suite offers a software stack that should be keeping everyone from Solar Winds and PuppetLabs to VMware up at night.
HP, IBM and other players in high-end enterprise software will also take notice. System Center 2012 is the first release where no member of the suite has some glaringly obvious flaw. Microsoft has also greatly simplified licensing and priced the package to eat the bulk of the high-margin market.
System Center 2012 isn't priced well for organizations below a certain size, but that is how Microsoft prefers it. The company has a completely different strategy for the SME market, which includes a lot less local IT and a lot more cloud subscriptions.
What's in System Center 2012
System Center Advisor
System Center Advisor (SCA) is perhaps the least known System Center offering. Making the case for SCA takes some doing. SCA is a cloud service that analyses your deployed infrastructure and looks for problems. At the moment, it isn't all that complex; it's like a cloudy version of the various Microsoft Best Practices Analyzers, but with historical tracking across your entire data center.
Getting people to use SCA is a huge benefit to Microsoft. It gives the vendor wonderful visibility into how its products are actually deployed, turning the aggregation of anecdotal data from sales engineers into a Big Data problem.
If everyone ran SCA, Microsoft could figure out who uses what in their products by running reports against information polled in real time. Think of it as a voluntary expansion of the Microsoft Customer Experience Improvement Program to data center-scale. The carrot is a helpful email if someone configures something in a fashion not covered by a Microsoft whitepaper.
If you are a shop large enough to use System Center's full suite, then you are probably managing by whitepaper already. This tool can help, and the feedback will help MS tailor products to your needs.
System Center Unified Installer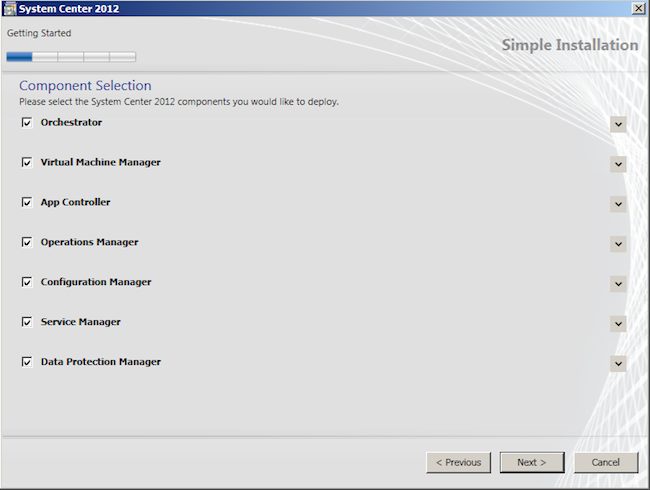 16 clicks
System Center Unified Installer (SCUI) does exactly what it says on the tin; it simplifies the installation of the System Center suite into 16 clicks. Unfortunately, it is not recommended to install System Center Suite on a single server except for evaluation purposes. This makes the unified installer great for tech-thusiasts and journos doing reviews, but it should not be used by anyone deploying System Center into production.
A proper installation of the System Center suite takes at least nine separate servers / virtual machines (VMs) and realistic minimum of a cumulative 32GB of RAM. Licensing costs of the System Center suite are such that it only makes sense to be in use by companies employing Windows Server Datacenter Edition. For these organizations "8 extra Windows Server instances" comes "free" and the cost of server resources required to run the entire System Center suite is just a rounding error.
This makes SCUI a nice-to-have for some, but thi is the one System Center product that most sysadmins can safely ignore.
System Center App Controller
System Center App Controller (SCAC) is Microsoft's end user "cloud" portal. Here, administrators can allow end users to spin up and control their own applications stacks and associated virtual machines. Reporting and other standard features are included. It can deploy applications with elements located on the corporate private cloud or on Azure.
SCAC is a niche product, but important within that niche. If you have a requirement for end-user control over application instances, this is a worthy widget.
System Center Configuration Manager
System Center Configuration Manager (SCCM) is a strong contender for the title of "flagship product" within the System Center suite. 2012 saw SCCM take a huge leap over its predecessor. System Center Mobile Device Manager was folded into SCCM and the upcoming SP1 delivers even more critical functionality than the initial release.
With Service Pack 1, SCCM boasts device configuration and management for Windows, OS X, Linux and Unix. It isn't Puppet, but when combined with other System Center products, it is getting dangerously close. SCCM also offers support for Windows Phone, Symbian, iOS and Android - the upshot is that Microsoft now fields something resembling enterprise-class mobile device management software.
With the 2012 release, the interface is reworked to be user-centric (as opposed to device-centric.) SCCM offers patch management, remote control, OS and app deployment, firewall configuration as well as hardware and software inventory - all with varying levels of support and success across the different supported platforms.
I have traditionally had little use for SCCM; it was too complicated for the limited functionality it offered. It crashed too often and the agents did bizarre things. With SCCM 2012, Microsoft has at last reached the point where here the aggravation is worth it, even when managing as few as 100 devices.
For most Microsoft shops, SCCM alone is likely to be worth the price of System Center. Competitors have until the next System Center release to wow the world. Microsoft has worked on SCCM for a long time. Assuming it stays true to form, the next version is will wreck everyone else in this space.